Escobar, right, with Russotto.|Stan Barouh
In 1994, Washington theater lost a treasure. In 2007, that treasure has been reclaimed, albeit briefly.
For those who don't remember Daniel Escobar, who blew away audiences in the early '90s with an extraordinary string of performances, you have just a few more days to experience him in She Stoops to Comedy (Woolly Mammoth; through Sunday, April 29; 202-393-3939), where he's appearing along Kate Eastwood Norris and Michael Russotto. Escobar doesn't have the starring role, but he has a monologue that is a bona fide showstopper.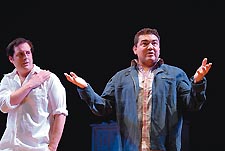 Escobar (right) with Russotto
(Photo by Stan Barouh)
"My character is introduced as 'Silent Simon.' Turns out he's not so silent," says Escobar, with a chuckle.
Escobar has spent the past 13 years or so in Los Angeles, where he's been working in the film and television side of things. He's guested on such shows as Curb Your Enthusiasm, Malcolm in the Middle and, most recently, Studio 60 on the Sunset Strip, and has appeared in the films Blow and The Mexican. "I haven't done a CSI yet," he laughs. "But I have been trying to get on CSI: Miami."
Escobar longed for a return to the stage, however ("L.A. is not a theater town") and approached Woolly Mammoth's artistic director Howard Shalwitz about auditioning for Stoops. Shalwitz didn't hesitate. "I've had a good time here," says Escobar of his month-long stay. "Howard and I are talking about me possibly doing one show a year at Woolly."
Longtime D.C. theatergoers may still remember Escobar best for his blazingly uproarious turn as Chicklet in the now-defunct Source Theatre's production of Psycho Beach Party. And those who do remember him have no compunction about stopping him on the street to offer praise.
"I forgot that people do that here," says Escobar. "The first few times it happened I thought I was going to get mugged."