Who knew a 19th century Czech opera could be as riveting and edgy as anything you're likely to catch on HBO? Thankfully, the Washington National Opera — under the astute direction of Placido Domingo — did. Every season they bring us an unexpected gem. This year it is the fresh and fascinating Jenufa.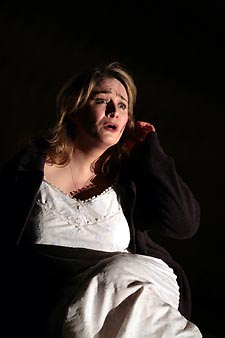 Tragedy served hot: Racette
Emerging around the time of Puccini's Madama Butterfly, this is the work of a far less celebrated composer, Leos Janacek. Though Janacek's style is quite different from Puccini's, his music is exquisitely emotional. He will tease out a sense of foreboding from a scene of village dancing or offer a lone violin to describe a single cry of despair. His music has a contemporary feel, holding glimpses of the movements yet to come, and yet it has the integrity and depth of the era in which it was written. The combination is pure magic, and conductor Jiri Belohlavek had the orchestra playing with the kind of energized clarity that let us savor every note.
Janacek is even more accessible as a storyteller. Thanks to director David Alden's supreme understanding of the material, we are drawn post-haste into the love triangle between the young heroine Jenufa and her two stepbrothers, each of whom vies to possess her in his own way. Two mother-surrogates join the mix — the Kostelnicka, who worries for Jenufa's future, and Grandmother Buryjovka, who makes it her business to excuse the failings of her grandsons. With this volatile ensemble, the hints of foreboding in the score, and Alden's tight pacing, we are hooked.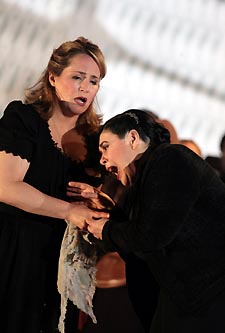 Soprano Patricia Racette is brilliant in the title role. Her Jenufa is undeniably alive, exuding warmth, vulnerability, and then suffering with tremendous power and credibility. We feel we can reach out and touch this woman. Racette has total command of Janacek's music, and she emotes with ease and beauty. Catherine Malfitano as the Kostelnicka succeeds mightily in keeping her character not only believable but fascinating. The Kostelnicka commits an unthinkable act against Jenufa and her newborn son and yet, considering her past and the crushing culture of the village, emerges as far more complex than a typical villain. Malfitano has a gorgeously rich soprano befitting this determined but tortured soul.
Raymond Very sings the womanizing brother Steva, who very convincingly holds Janufa in his spell. He is a pleasurable tenor and an excellent actor. Kim Begley as his repressed and (arguably) twisted stepbrother, Laca, is a reedier tenor, a sound that matches, in a sense, his character. Judith Christin as the Grandmother rounds out the cast with a memorable persona — insidious in coke-bottle glasses. Mention must also be made of Jeffrey Wells as the Foreman, a smaller role he makes extremely compelling.
JENUFA
Kennedy Center
Opera House
May 10, 13, 16, 19, 21 and 24
202-295-2400
www.dc-opera.org
Alden and choreographer Claire Glaskin make the most of the nightmarishly slanted stage, bringing the principals in and out of the choral groupings with creativity. Steva's entrance among the town rowdies where he moves among them and then rolls downstage first with a floozy and then with Jenufa is a marvelous piece of theater. By the time Steva falls still, we know all there is to know about the man. The lighting from original and revival designers Adam Silverman and Jon Clark is also remarkable against this tilted set, especially in the shadowplay of the Kostelnicka, reminiscent of a fairy-tale witch.
Though Jenufa is one of the most well-known Czech operas, it is unlikely to be a staple in many repertoires. Yet a production such as this, with an intuitive director and a fine cast, is musical storytelling at its best. Catch it if you can.