"For me to sing a standard Yiddish love song would kind of ring false. Pretending that I'm some straight loverboy — it just doesn't work for me," says Lorin Sklamberg, lead vocalist of the Klezmatics.
For more than two decades, the Klezmatics, a five-piece New York band, has updated Yiddish klezmer music by making it slightly more contemporary. So from time to time Sklamberg will alter the gender pronouns and other lyrics — or even sing in the voice of a woman — to best reflect his own gay sensibilities.
"We generally perform songs that we can get behind as who we are," says Sklamberg.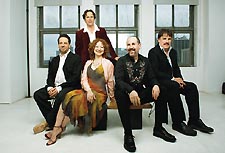 The Klezmatics
Sklamberg is the band's only gay member, but gays and lesbians are well-represented in the now two-decades-long revival of all things Yiddish.
Yiddish "has a softer, more feminine association" than Hebrew, says Sklamberg, in part because Yiddish was known as the language of the home while Hebrew was the language of the synagogue. Another, probably stronger, reason for Yiddish's gay appeal: "It's been kind of the underdog language in some ways, especially since the establishment of Israel as a country. Yiddish was always something that people tried to do away with."
Originally from Los Angeles, Sklamberg "grew up learning Hebrew like most good suburban Jewish kids." He didn't pick up Yiddish until joining the band, whose name reflects its interest in merging the traditional with the modern — in both its lyrical content and its musical influences, from gospel to punk.
"I don't know how much of that punk energy I have now that I'm 51," Sklamberg says, with a boisterous laugh. "But certainly the intent is still there."
The Klezmatics will perform Sunday, June 3, at 8 p.m., as part of the 8th Annual Washington Jewish Music Festival at the DCJCC's Aaron and Cecile Goldman Theater, 1529 16th St. NW. Admission is $50. Visit www.washingtondcjcc.org.