Rufus Wainwright poses a loaded question as his new album begins: "Do I disappoint you?" On the rambunctious song of that title, he is rhetorically asking someone he's rejecting — who, in turn, is rejecting him — whether the disappointment is "in just being human,… in just being like you."
And the rhetorical question sticks with you, as you ponder the right way to answer. The constant critical hype that surrounds Wainwright — even his own abundant self-regard — is not misplaced or overdone. The son of two legendary folk singers and brother to a barbed indie rocker, Wainwright has become one of this generation's leading gay singer-songwriters, and he's one of today's most talented musical artists, gay or otherwise. But yes, he does disappoint. Sometimes it would be better if he held back on his arrangements. And, with his voice, just held steady.
Wainwright is often more dramatic and over the top than just about any other pop musician. (The Metropolitan Opera has commissioned him to write an opera, and it seems a natural fit.) Wainwright further disappoints when he gets so enamored of his own self-described "gilded" music and "operatic curlicues" that he lets his voice flutter and lodge itself in his nose and the back of his throat. More often than a responsible man should, Wainwright whines and mumbles. Musically speaking, he gets drunk.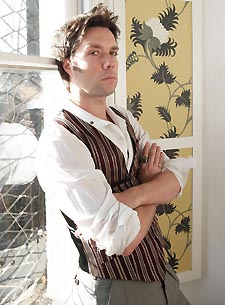 Mush-mouth: Wainwright
But either he's doing a better job at controlling his urges, or we're becoming desensitized to his binges. Release the Stars is a stunner of an album, featuring one sumptuous song after another and some of the best of his career. "I'm tired of writing elegies in general," Wainwright sings on the glorious and bright "Sanssouci." That doesn't stop him though, and "Sanssouci" itself is some sort of an elegy. It finds Wainwright wishing in vain to cavort with those just out of his reach — something akin to an aging gay man who finds bar-hopping still alluring though less convivial than in the past. The song certainly sounds like the party of the century.
More influenced by the stage and theater than its predecessors, Release the Stars (




) was produced by Wainwright — his first time going it alone. His Want One and Want Two producer Marius de Vries is always nearby, however, and he enlists several distinguished others to help him, including sister Martha and Pet Shop Boys' Neil Tennant, who serves as the album's executive producer as well as a frequent backing vocalist and keyboardist. Wainwright's intent was to make a more cutting-edge album, one that was more intimate and barebones. You'll be disappointed if you expect any of that. But several of his songs are quieter, more pensive, more immediate, and even more in traditional pop song form. The first single, "Going to a Town," is a rock ballad that offers a damning rebuke to an America where people believe others will "go to hell for having loved," and an America whose leaders "took advantage of a world that loved you well." It's an elegy, pure and simple, but not just: With all the disappointment, Wainwright reveals that he hasn't given up, that he has a "life to lead" and "dreams to heed."
Disappointment may be a reality of being human, but so is striving for better. Wainwright proves both.
Erasure's new album finds the duo returning to its electronic roots, and particularly to its roots as a giddy purveyor of dance-pop. It comes after an unexpectedly wonderful foray into American bluegrass and country last year and also after a decade or so of slumber in a chilled-out, mid-tempo state of sobriety. But Light at the End of the World (


) suffers because Andy Bell and Vince Clarke just don't appear to be trying very hard. It seems the duo could use a break, after having released roughly one album a year, including a solo set from Bell, for the past five. That kind of output would defeat even the best of pop musicians.
More often than not on the new album, Bell and Clarke simply tease us with the truly new music they could have made. Album closer "Glass Angel" sends them off in a full-bore mourn, leaving everyone longing for more a la Depeche Mode, Clarke's original band. "Fly Away" lifts its delightful melody from a slice of really old-school Americana, Stephen Foster's "Old Folks at Home (Swanee River)." After last year's Union Street, you expect more of that inspired meld between acoustic-folk and electronic-pop. Instead, what you get more of is embarrassing church hymn-inspired electro-cheese ("How My Eyes Adore You") or regurgitated early Erasure-inspired electro-cheese ("I Could Fall In Love With You").
Naturally, the cheese doesn't taste so fresh decades later. And with lyrics as adolescent, and borderline infuriating, as "You enthuse me, don't abuse me/At the worst of times, you'd never lose me," Erasure is losing us.