When you live in a city like Washington, D.C., whose primary commerce is fact, or as is sometimes the case, the manufacture of truth, it is easy to forget that there are people making magic in the world.
This word is not used lightly or passively. Certainly there are individuals creating works of great beauty and amazement. Paintings and architecture and lifesaving pharmaceuticals. There are even those natural instances when a certain color in the sky or bloom alongside the sidewalk brightens the gray, stone landscape. But genuine magic is something entirely different. That is a commodity in short supply in this city of conservative suits and unnervingly omnipresent Blackberry (or Blackberry-styled) devices. Even when mobile we feel the compulsion to anchor ourselves to the reality of offices and e-mail, or to at least let others know that we are very adult and important.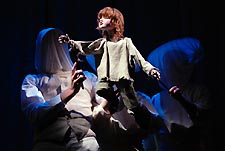 It is into this world that Arena Stage brings Mabou Mines' Peter & Wendy. A blast furnace of imagination and magic, Mabou Mines is a New York based collaborative theater company founded in 1970. The group has created some 60 original works and adaptations and performed the world over, amassing nearly 100 awards for everything from writing to performance to direction and design.
The troupe's Obie Award-winning Peter & Wendy, whose Arena Stage production brings together the show's original creative team as well as the actress who originated the role of The Narrator (Karen Kandel), virtually defies description. Though, after the curtain drops, the aisles of the Kreeger Theater choke with individuals straining to capture what it is they have just seen with an almost evangelical zeal. And many of them are doing so in very grown-up suits.
The story is one most everyone is familiar with—the eternal boy Peter Pan and his band of Lost Boys, the villainous Captain Hook and the sinister crocodile with the telltale clock ticking deep inside its belly. But this is not the Disney interpretation of J.M. Barrie's 1904 play Peter Pan or his later book Peter Pan & Wendy. In the hands of Mabou Mines' skilled writers, designers and puppeteers, hearts break louder, shadows stretch darker and the seed of melancholy planted at the story's center bears full, ripe fruit.
Mabou Mines fills the stage with a variety of puppets and effects, a layering of techniques that creates a richly textured visual quilt. The exquisitely detailed Peter Pan puppet, manipulated by a team of veiled puppeteers dressed in white Edwardian costume, urges his Wendy to fly away to the music of a live Celtic band. Snowflakes are evoked with the simple act of allowing paper cuttings to fall to the stage floor. Tinkerbell is a pair of finger cymbals. At one point a precisely draped bit of bedsheet transforms into the bow of a menacing pirate ship. This is theater alchemy.
At the center of this unbelievable swirl is Kandel. Known to D.C. audiences for her Arena Stage role in Anna Deavere Smith's House Arrest and in the Kennedy Center's "Night Kitchen Radio Theatre" series, Kandel's Narrator literally gives voice to the entire show. She is the voice of Peter, the personification of Mr. Darling, Wendy and the Indian Princess Tiger Lily. She cries out on behalf of the Lost Boys, pines as Mrs. Darling and barks and growls for the Darling family's dog, Nana. To say that it is a virtuosic performance is to not say enough. Kandel is a marvel, giving something new and unique to each character and filling the Kreeger with, well, magic.
PETER and WENDY

To June 24
Arena's Kreeger
1101 6th St. SW
$55-$74
202-488-3300
www.arenastage.org
It bears mention that Kandel will end her run with the Arena production on May 27th. While the company's level of execution suggests that Marsha Stephanie Blake (who will finish the show's run as The Narrator in her Arena Stage debut) will offer audiences an equally breathtaking performance, Kandel is like a winter thunderstorm. She is a rare phenomenon not to be missed.
It is so easy to become lost in the rush of one's daily life. Traffic snarls on the Beltway, tourists clogging the left side of the Metro escalator by standing instead of walking—it is easy to forget there is enchantment in the world. Thankfully, for the next several weeks one will have the chance to sink into a chair at the Arena Stage and believe, for just a little while, in pirates and mermaids and magic.