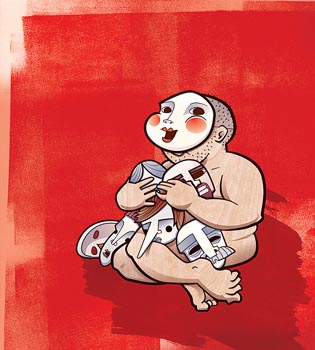 Alan Defibaugh
"Who Do You Want Me To Be
To Make You Sleep With Me?"
18" x 20"
giclée print on canvas
2007
There's a man on the Metro with his eye on you. You look back and his eyes dart back to his pad. Have you just been added to Alan Defibaugh's collection of commuter sketches? The chances aren't bad, considering he calculates he's crafted 290 quick portraits in about the past two years.
"I'm always drawing someone's head and shoulders in my sketchbook. It's kind of an art to avoid people's eyes. You'd be surprised how many people do not look up, just reading or concentrating on their knees."
Despite the reported ignorance of his subjects, it's hard to believe the attractive 28-year-old's glances have never been misconstrued.
"I guess I probably have seen an attractive guy and tried to get him down [on paper]," he says with a laugh. "Sometimes it's fun to draw guys. If I was straight, I might not draw as many guys with big arms and strong chests. In school, I was undecided [about my sexual orientation], but I was still interested in art and comics. Art was an early decision."
D.C. — or Silver Spring, specifically — was a more recent decision. Graduating from the Savannah College of Art and Design in 2005, Defibaugh and his partner chose to move to the D.C. area instead of somewhere in California, Atlanta or a few other places they'd contemplated. As a Brandywine, Md., native, though, Defibaugh says he's glad to be back near his family.
As a professional illustrator and artist, Defibaugh says he's relative newcomer to the area, despite his Maryland upbringing. In fact, "Art in Heat" is his first show here. The exposure may help him pinpoint his fan base, which so far defies definition, he guesses.
"It's a pretty wide variety — younger, older, men, women. I think [my art] has got a pretty wide appeal. It's pretty tasteful, with bright colors. I like it to be a bit playful, maybe a bit subversive."
For more information visit www.alandefibaugh.com.
Click to Read More About Each Artist