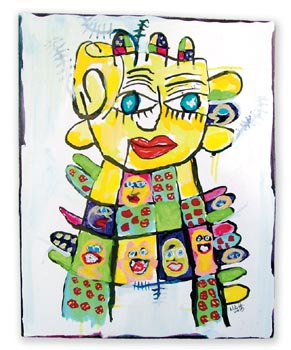 Albert Schweitzer
"Quilt Mama"
16" x 20"
mixed media on board
2007
Turning 40 just four days before the opening of "Art in Heat," Albert Schweitzer says the month-long show is a great way to celebrate his birthday. And looking at Schweitzer's whimsical, playful art, one certainly gets the impression that he's not lost a childlike appreciation for birthdays. Speaking with him, it's apparent that he's not lost an appreciation for anything, actually.
"It's a blessing to be here, following my bliss. I just count my blessings," he says, his tone hinting that he may have found the path to Nirvana. But while Schweitzer may come off as a little kooky at first glance, there is method to his madness.
"I'm an extremely organized person in a lot of ways. I turned my whole house into a studio. I had an electrician put in lights. The whole house is packed with art."
It's an environment — combined with his stereo blasting Brian Eno, Harold Budd or Peter Frampton — that makes him impressively productive. Check out DJs, the new film series he's been working on for YouTube. Or tally all the pieces he's donated to various HIV/AIDS organizations in the Mid-Atlantic region.
His talent, commitment and kookiness make him the perfect transplant (from Wisconsin) to his adopted Baltimore.
"There are a lot of happenings around Baltimore. It's gritty and wild. There's so much talent here, and not a lot of attitude. Baltimore is definitely weird, funny, quirky, trashy," he says. "It just seems to be laced with a lot of inventiveness and personality."
It's also sexy, but Schweitzer is going to make you hunt for it in his work. Insisting that he's a gay man who celebrates gay culture, he adds that he's not going to hit anybody on the head with it.
"A lot of my art is homoerotic in a way," he says. "It's subtle, it's quirky and there's a lot of comic relief. On one artwork I did in the past, I wrote, 'Relax, don't do it, I'm wearing Depends shields."'
For more information visit www.albertschweitzerart.com.
Click to Read More About Each Artist