A little exposure goes a long way, particularly for the lesbian hip-hop duo God-Des & She.
"We've gotten a lot of Pride offers this year, which is really awesome," says God-Des, the rapping-half of the duo. "Definitely with the popularity of the L-Word and LOGO, a lot more people know about us now."
The duo's sexually explicit song "Lick It" played a prominent part in this year's L-Word season finale. And the video to the duo's hit "Love You Better" is a near-permanent fixture on LOGO. In addition, MTV's gay premium cable channel has repeatedly aired gay hip-hop documentaries that feature the two women.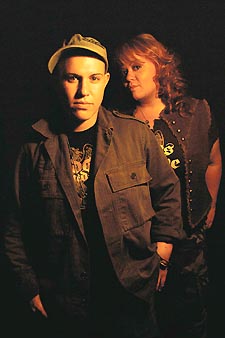 God-Des and She
But while they're performing on the Pride circuit this year, God-Des says the two — reputed to have a magnetic stage presence — are especially excited about performing at Capital Pride. "We've never played D.C. before. We've had a lot of people from D.C. request us to come but we've never been able to do it. I think it's going to be good."
God-Des is the assumed name of a self-described "white dyke Jew from Wisconsin" — though she's originally from Michigan, and now lives in Brooklyn. Meanwhile, She is the assumed name of a white rock and soul singer who met God-Des in Wisconsin and moved with her to Brooklyn three years ago.
"I can't disclose that information," God-Des says in a phone interview, when asked to reveal the ages as well the real names for the partners, who may or may not be an actual couple. "We don't like to talk about our personal lives like that, either."
God-Des explains her assumed name is a play on the word goddess, but also of a colloquialism, "you got this" — and the reason for the hyphen. "I really wanted to play off the fact that female rappers have been so overly feminine or forced to be feminine and take a really feminine name all the time. And since I'm so not that way I felt like making a mockery of that."
She, meanwhile, came about as a play off God-Des. "What sounds as egocentric as God-Des? She!"' says God-Des.
The two are ultimately aiming to shake things up in Hollywood and the entertainment industry. "It's time for us to be really visible and open doors for other musicians who aren't quote-unquote normal in Hollywood to have a shot," God-Des says. "There are so many things that so many people have to offer but don't get the chance because they don't look like Christina Aguilera or Britney Spears."
God-Des & She are scheduled to perform Sunday, June 10, at approximately 4:25 p.m. on the Capital Pride Festival Mainstage. Times are subject to change.