A video archive documenting more than 21 years of Washington's GLBT community was destroyed on Wednesday, June 6, when the apartment complex it was stored in, belonging to its creator Cheryl Spector, caught fire. Spector, who was at work when the incident occurred, said Arlington County Police suspect that the fire, at 1577 Colonial Terrace, in Rosslyn, Va., was due to an electrical problem, but have not confirmed the exact cause yet.
Members of the gay community and friends of Spector reacted with shock.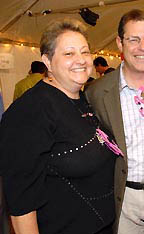 Cheryl Spector at NOVAM's 2007 IMAGINE Gala
(Photo by Ward Morrison)
"She didn't have the [archive] in a storage unit, she had it in her apartment," said Kendra Kuliga, founder of the D.C. Kings.
"Her biggest fear was that one day it would go up in flames, and today, it did." According to Kuliga, Spector had just started to transfer the videotapes to DVD format. Sandy Mohler, a friend and a local performer, was assisting Spector with that process and said they had just started and "didn't get very far."
The magnitude of the damage to the tapes and other archival materials, and whether or not anything is salvageable, is still unknown.
"It was pretty bad," Spector said. "There isn't much damage in any other apartment, I'm really glad that no one else's apartment was affected and that there were no injuries."
Spector is asking the community for help.
"It's very important for the community to come through for me with this," she said, adding that the Rainbow History Project has been holding some of her archives, and a storage room to which they could be transferred would be greatly appreciated.
Mark Meinke, founder of the Rainbow History Project, said the fire resulted in a "terrible loss" for both Spector, who serves on the Rainbow History Project's board, as well as the gay community, in terms of a visual archival record of its history.
"She had an enormous collection of video tapes," said Meinke. "She had over 500 videotapes dating back to 1986. And she also had a nearly complete collection of the Washington Blade and Metro Weekly."