Here it is, another summer already. Time to fire up the barbeque — and then cue up another summer anthem from Rihanna. Is the third time a charm?
No, "Umbrella" isn't a better song than last year's "S.O.S." — although it is nearly as catchy and original. It is also better than 2005's "Pon de Replay."
But in addition to having one of pop's biggest hits every summer for three years running, Rihanna has also released an album each summer. It's an impressive feat, and one all the more impressive because each album has been better than the last. Now, with Good Girl Gone Bad (




), Rihanna has created an album better than most casual pop listeners, even many of those who've admired her previous hits, would probably ever expect.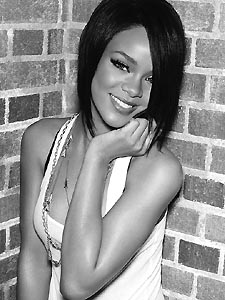 Bad means good: Rihanna
(Photo by Roberto D'Este)
Her label head, Jay-Z, has compared Rihanna's new album to Janet Jackson's breakthrough Control, suggesting Rihanna has found her voice and her sound the way Jackson did 21 years ago. Yes, 1986, two years before Robyn Rihanna Fenty was born on the Caribbean island of Barbados. That's a lot of pressure to live up to, not to mention hype. After all, the type of listener who warmed up to Janet Jackson after "What Have You Done For Me Lately" and "Nasty" and any of Control's other tirelessly pleasurable hits is likely looking to warm up to someone like that again. (Jackson unwittingly but unquestionably gave up the crown a couple years ago.) Is Rihanna really the new bad girl of our good-pop dreams?
In a word, yes. Good Girl Gone Bad is pretty great, with one catchy and clever track after another. Rihanna wanted to make a more personal statement with this album, and to make an album that establishes her as her own kind of pop star, not just a Beyonce-come-lately. Though the new album was produced by the same team behind her first two albums, including Jay-Z — Mr. Beyonce himself — she achieved her goal. She may not be a songwriter, but this singer clearly knows what she wants and what she doesn't. What she didn't want this time were the kind of blandly derivative ballads all-too-common in R&B, sapping energy from an album's floor-stompers. There are only three ballads out of 12 tracks here, all bunched up at the disc's end, and all focused on her still-in-progress transition into adulthood. Best yet, even the weakest ballad of the bunch, "Question Existing," isn't something you don't want to listen to again.
Rihanna doesn't just create ballads that are more pleasing, with more meaning, than previously. Her uptempo numbers, most of them dance-pop, are more appealing, too. And if any album is to fully win over gay listeners, this is the one to do it: It's still her primary goal, but she's no longer only dancing to release pressure or to flirt with boys. Like many a gay man before her (and many others besides), she wants to do more than flirt when she dances. She's ready to find love — and certainly sex — on the dance floor.
"I just came here to party, but now we're rocking on the dance floor, actin' naughty," she sings on "Don't Stop The Music," about a boy whose hands are at her waist as they dance face to face. All the while, Michael Jackson hoots in the background as the backing chorus starts getting delirious, speaking in tongues: "Mamma say, mamma saw, moo-mat moo-saw."
Again, Rihanna proves she's one of the savviest samplers around. Creating a song about getting naughty with a stranger on the dance floor, using key elements from Michael Jackson's classic "Wanna Be Startin' Somethin'?" So clever and so obvious, and yet, like sampling Soft Cell's "Tainted Love," somehow, no one has done it before.
For her newest single, "Shut Up and Drive," Rihanna euphemistically sings about looking for a driver for her "ride that's smoother than a limousine." For the song she samples key non-percussive elements from New Order's "Blue Monday." It doesn't work as well as you'd expect. It's a rare misfire.
Rihanna also samples from Justin Timberlake's "Cry Me A River." Well, actually, Timberlake co-wrote "Rehab" with super-producer Timbaland. It is its own distinctive song — and a fetching one at that — but the resemblance to one of Timberlake's best is unmistakable.
"Rehab" — about needing to get over a lover who used her — is one of three tracks co-written by Timbaland. But remarkably, they don't stand out. In fact, several others sound like Timbaland productions; all share a sound that is pure Rihanna. It's a sweet but saucy tropical blend more humid than hot. Rihanna clearly has a strong-enough identity that her crew of producers, no matter how distinctive their own sound may be, are able to work with her in creating playful pop that is unmistakably hers.
Everywhere, her warm, reedy alto voice is as satisfying as her umbrella in a rainstorm. As Rihanna puts it, "ay, ay, ay." It's the sound of happiness echoing across the pop plain.
Advertisement

| | | |
| --- | --- | --- |
| Rhianna: Good Girl Gone Bad | Kelly Rowland: Miss Kelly | Kimberley Locke: Based on a True Story |
From YouTube

Rihanna / Jay-Z: 'Umbrella' (Covergirl promo)