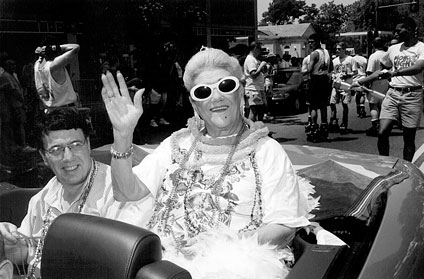 Marjorie C. MacGregor
(Photo by 'Metro Weekly' file photo)
There are pictures of Marjorie C. MacGregor on display at 17th Street's Trio Restaurant, where she worked for nearly 40 years as a waitress and later as a night manager. They sit on the same counter MacGregor, known simply as "Margo" to patrons, usually stood behind. Margo was known in the community for her lavish attire, including boas and expressive makeup, which friends say complimented her inclusive and "upfront" personality during the early days of the gay rights movement as well as the AIDS epidemic.
The native of York, Pa., who came to Washington in 1954, died on Sunday, July 8, at the Community Hospice of Washington, in Northwest. She was 89.
But you don't have to look far, even today, a decade after MacGregor retired from Trio, to find someone who knew and adored her.
"She was sort of a mother figure for me, and for many others," says Gerry-Kay Talton, a longtime friend of MacGregor's, who visited her in the hospice the day before she died.
"I'll never forget her. I don't think anyone who ever knew Margo to any great extent will. I guess I'd call Margo the universal mother," adds Talton, a 65-year-old retired resident of Northwest. "A lot of gay people claimed her as a mother figure."
Robert E. Barker, 61, of Dupont Circle, was a longtime friend of MacGregor and cared for her during her final days.
"In the early days, Trio was a regular stomping ground for gay people, gay groups and AA groups, and so on, all of whom Margo kind of took under her wing," Barker says. "That became very important and really notable in the early days of the AIDS crisis, when so many people were dying."
Barker says MacGregor kept a list of the people she knew, from the restaurant or otherwise, who had died of AIDS.
"When the list hit 200 she stopped, because she couldn't bear it anymore."
Barker says it was MacGregor's natural instinct to fight discrimination against people living with AIDS by offering a hug, treating someone to a meal and even offering to serve as a surrogate mother to those facing rejection.
"People were always welcome in the restaurant," he adds. "No ifs, ands or buts about it."
She also knew how to have fun, Barker says, adding that MacGregor, who worked at some of Washington's early gay bars, including the Chicken Hut and the Derby Room before heading to Trio, would often ride in the city's gay pride parade wearing a boa and a tiara.
"She was a character, a certified woman of her own creation," he says. "She was somebody who grew up very poor in early years, and managed to carve out an identity and a role for herself in very much her own way."
It's an identity that stayed with her until her final days in the hospice, Talton says. MacGregor kept her boa and mementos with her in the room where she was staying.
"I told her, 'I hope it's okay with you Margo, but I've asked the Virgin Mary to be greeting when you arrive in heaven,"' Talton recalls of her last encounter with MacGregor.
"Margo said, in typical Margo style, 'Sure, why not.' And that was Margo, she was a verbal economist, but when she spoke, it was meaningful and it always came through with emotion or charisma."
There are many people who believe that charisma rubbed off on the late Wayland Flowers, a puppeteer who died of AIDS-related complications in 1988, who may have crossed paths with MacGregor in Baltimore or Washington before creating his best-known puppet, Madame, in the early '60s. Madame, described by Flowers as an "outrageous old broad," became a hit on television shows like the "Andy Williams Show," during the '70s and '80s. While Flowers never confirmed it, many people think he based the character on MacGregor.
"She acknowledged it in the end," Barker says. "She acknowledged knowing Wayland Flowers," adding that the details remain obscure.
"I've seen the puppet and Wayland Flowers' routine [and] I don't doubt it at all. Even some of the stuff in his routine — he had one where Madame meets Frank Sinatra, and Margo just idolized Frank Sinatra."
Barker says that MacGregor took the famed puppet in typical stride.
"The only comment I remember her saying was, in this sort of a gruff way she had, 'Well, I never got anything out of it.' But I think she took it good-naturedly, I don't think she was offended."
The inspiration is understandable, Barker says, adding that in many ways MacGregor was an icon to his generation.
"To her credit, she realized very early on…that a gay man is a straight girl's best friend. She found a way to have her own independent life, surrounding herself with a lot of interesting, talented gay men and she thrived on that."
He also says MacGregor's life holds a lesson for everyone.
"She's a symbol of the way people — anybody, gay, straight, rich or poor — should be accepted for who they are, not for what their sexual orientation is, or their status in life."
MacGregor is survived by her son and daughter-in-law, Fred and Judy Snyder of Etters, Pa.; sisters, Myrna Gulliford of Tonawanda, N.Y., and Anna Myers of Hanover, Pa.