Next week I take my umpteenth trip to Provincetown. Why do I keep going back? Because there is something warm and comforting about returning to a place you know well. The specifics may change — stay someplace different, try a new restaurant — but you generally know what you're going to get.
The same can be said for romantic comedies. There's a formula adhered to like glue: boy meets girl, boy and girl fall in love despite some huge impediment that is going to come between them, conflict arises, conflict is overcome, boy and girl live happily ever after. It's a genre you either love or hate, and I'm not ashamed to admit that I'm a sucker for a cheesy love story. If you're on the pro side of the column with me, Falling for Grace is definitely worth checking out. It's the cotton candy of summer movies — light, fluffy, and so sticky sweet, you wonder if it's going to cause a cavity. But it's summer, so why not indulge yourself?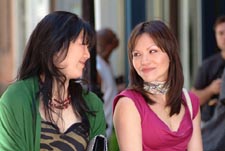 Saying grace: Cho and Lee
The originality of Falling for Grace is that the Cinderella in the story is Asian-American. Grace Tang (Fay Ann Lee) has pulled herself up by her own bootstraps to become a successful businesswoman on Wall Street. Her family still lives in Chinatown, working at restaurants and sweatshops, and she's still strongly tied to those roots, but desperate to fit into the New York high-society scene. Enter the hilarious conflict: When Grace is confused for being another Grace Tang, this one a high-powered designer, she rides the mistaken identity train for as long as she can.
While posing as the other Grace, she falls for local hunk Andrew Barrington Jr. (Queer as Folk's Gale Harold) who is trying to shut down the sweatshops, including the one where Grace's mother works. Amazingly, Grace's latest business deal just happens to be for a designer using one of the sweatshops. This professional coincidence (along with Grace and Andrew's propensity for bumping into each other despite the enormity of Manhattan) is the type of plot development that just has to be accepted.
FALLING FOR GRACE

Starring Fay Ann Lee, Gale Harold
Rated PG-13
At the Dupont
In addition to starring, Lee makes her directorial debut with Falling for Grace and exhibits great promise. She very ably unfolds the story both quickly and clearly. She also commands great performances from a number of well-known actors, including gay actor B.D. Wong, his Law & Order: SVU costar Stephanie March, the always fabulous Christine Baranski, and a blissfully subdued Margaret Cho, who brings just enough crazy to her role to make it fun but not overwhelming. Though Harold and Lee lack a certain chemistry on screen, each provides a solid performance that doesn't disappoint.
Parts of Falling for Grace are comedic magic, including Andrew's introduction to Grace's non-English speaking parents (be warned — lots of subtitles). Other small moments shine brightly and stitch together to make a cinematic tapestry of romance and laughter. For fans of romantic comedies, Falling for Grace is worth the tumble.
---
INTERVIEW

Starring Steve Buscemi
Rated R
83 Minutes
At E Street Cinema
The purpose of an interview is to cull through lots of information for the most exciting and compelling parts and put them all together into something that's pretty and pleasing. It's like making sausage — it's best if you don't see how it's done, but the end result can be really good.In his new film Interview, director and star Steve Buscemi takes you into the factory to witness an interview gone horribly awry. Pierre Peders (Buscemi) is a washed-up political reporter assigned a fluff piece on a super hot soap star Katya (Sienna Miller). After behaving like a complete ass during a quickly aborted interview, Pierre somehow finds himself in Katya's apartment, drinking the night away while exploring her innermost thoughts. It's a prolonged conversation that borders on the absurd and makes you want to scream, "Oh shut up already!" By the time the final scene ends, complete with an unsurprising twist, all that really matters is that the two will never have to be in the same room ever again.In its attempt to be intellectual and deep, Interview winds up shallow and trite. Much is made of scars, for example. His are physical, hers are emotional. It's this type of in-your-face symbolism that causes Interview to feel like a seventh grade literature project rife with archetypes and clichés.The saving grace for the film is the star power. Buscemi continues to prove himself a versatile actor — even if his writing and directing are the movie's biggest shortcomings. Miller, however, is the true surprise. Like Katya, maybe Miller deserves to be known for more than just who she sleeps with.The one thing that Pierre and Katya are able to agree on is that there is a winner and a loser in every relationship. In Interview, the loser is the audience.