Mandy Moore intuitively understands why you probably don't think of her as much of a pop musician. She doesn't think of herself as much of a pop musician, either.
"It's somewhat of a foreign concept for me to care so much about a record," says the starlet in her official press biography, referring to her latest effort. She may have gotten her start as a pop singer some eight years ago, but she's gained a bit more fame and a lot more respect by virtue of her acting over the past four years. You can't forget her turn as a Bible-flinging goodie two-shoes — who accidentally crashed her van into Jesus — in 2004's Saved!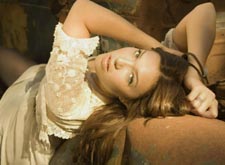 Mandy Moore
So for anyone to care about a Mandy Moore album — well, that is somewhat of a foreign concept. But the promise was there all along, particularly with 2003's stilted yet sophisticated covers album Coverage. We never actually cared much about her music until now. Wild Hope (



) gives us just that.
The album reveals a 23-year-old who knows her way around a pop song, as a singer and a songwriter. (The album marks Moore's debut at songwriting.) She's dropped the dance-oriented teen pop and turned to a blend of country and pop that is more adult. As a songwriter, Moore shows herself to be a visual lyricist, and also one clever with rhyming and wordplay. She writes mostly about love: trying (or not trying) to rush into, resist or remove it. She's a young woman trying to find her way. On "All Good Things," Moore describes the emptiness you feel after separating from someone. "I got a whole house with the wind blowing through, I don't need somewhere to hide," she sings. "I've got this whole world inside, I was accustomed to showing you."
For the album, Moore recruited help with songwriting from a stable of well-regarded if not well-known pop musicians and producers, including Rachael Yamagata and Lori McKenna. They don't achieve the same revelatory effect as Moore's lyrics, though. After starting strong, the album offers only a few sparks as it goes on.
But, oh, the sparks it offers. Album-opener "Extraordinary" was written with the pop-folk duo The Weepies, and this bright song channels a mellower KT Tunstall. It could be used as an American Idol anthem. "I know I am another sparkle in the sky," Moore sings. "I shine uncovered, still undiscovered. But you might see me in the corner of your eye."
Indeed we do Moore. And we want more shine next time.
Advertisement

| | | |
| --- | --- | --- |
| Mandy Moore: Wild Hope | Suzanne Vega: Beauty and Crime | Hilary Duff: Dignity |
Unlike Moore, Hilary Duff actually got her start as an actress and then turned to music. No one said the Disney Channel's Lizzie McGuire was much of an actor. Truth be told, she doesn't act like much of a singer either. Of course, she is only 19. So, unlike Moore, Duff doesn't seem to care if we care about her or her music at all. There's nothing especially noteworthy about Dignity (

). This is Disneyfied dance-pop, safe for toddlers. It's too much like Gerber's baby food. We're not dance babies anymore — many of us are even full-grown dance daddies. And this mushy glop just doesn't taste right.
The title track is a slam against Los Angeles, specifically sung to some publicity-mad rich girl who has "the hottest shoes" ("Jimmy Choos") but no self-worth. "Where's your dignity? I think you lost it in the Hollywood Hills," she sings. Oh, snap! Good one, Hilary. Never heard that before! What else you got? Well, ask and you shall receive! On "Dreamer," she sings about how tired she is of being stalked, asking of one particularly persistent stalker — the titular "dreamer" — "C'mon, buddy don't you think you overstayed your stay?"
There's also "With Love," on which Duff asks her man to speak his mind about what's troubling him, after conceding that sometimes she's too busy "all wrapped up and into me." But in the chorus, she rattles off the word "love" in such a blasé way that it comes out as "blah, blah, blah, blah."
Obviously, her words are double-edge swords — everything she says can and will be used against her. And it is her self-penned words that are the problem here. Mandy Moore she is not. She enlisted some top-notch producers, and damn it if some of even her most lyrically egregious tracks are catchy. If they were paired up with different lyrics — Moore's, perhaps? — they might even be irresistible.
From YouTube

Mandy Moore: Extraordinary