Black vs. white. Man vs. woman. Teacher vs. pupil. Self defense vs. murder. Rock vs. dictionary.
These dichotomies and others cleave fissures through Athol Fugard's My Children! My Africa!, a multilayered tale of South Africa and the social divisions that ruined the lives of so many of its people. The Studio Theatre's production of Fugard's self-professed favorite play will also split hearts in two with its stunning performances and careful direction.
In 1984 South Africa, apartheid divides the races into a rigid and debilitating class structure. Many blacks live in horrible conditions in Bantustans, where everything from health care to education is worse than in the white communities. In Fugard's social commentary, three radically different South Africans represent the past, present and future of the country — and the near impossibility of coexistence for the three.
Anela Myalatya (James Brown-Orleans) is affectionately known as Mr. M, a benevolent and wise teacher at the Bantu school in "the Location" where the town's black population lives. In an attempt to bridge divides, Mr. M invites students from the local white school to participate in a debate over the equality of the sexes, pitting feisty Isabel (Veronica del Cerro) against local favorite Thami (Yaegel T. Welch). Even as the sparks fly in the debate, the initial flames of friendship ignite.
Recognizing the winning combination of the two, Mr. M enters them in a competition that requires Isabel and Thami to both challenge and rely on each other. It's a partnership that defies the rigid social structure of the time, but if Isabel can see past the falsehoods that divide the country, there must be hope. Right?
How does one capture the complex and damaging ramifications of apartheid on one small stage with only three actors? Fugard uses words — the words of his characters and the words of some of the world's greatest writers — to accomplish this feat. Director Serge Seiden uses the incredible talents of three actors who pour their hearts and souls into the performance.
One of the finest points of Fugard's play is the complexity of his characters. None are perfect and none are simple. Mr. M's wisdom and love for his students is both his greatest virtue and his Achilles' heel. Thami's love for learning gives him wisdom to improve his life, but also the knowledge to know what must be done. And Isabel can see the tortured lives of Mr. M and Thami, but will never be able to change the reality of her place of privilege in South Africa.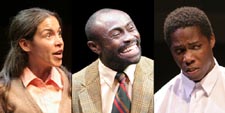 Even as each character is flawed, each actor's performance is nearly flawless. The chemistry among them is riveting and each pairing is just as strong as when all three are pivoting off each other. However, the defining moments of the characters are soliloquies in each act; their chance to open their souls to the audience and lay bear their inner thoughts. In this role, del Cerro provides the balance to the play — a nurturing figure on whom the emotional finale rests. Del Cerro hits the perfect note, giving a strong and heartfelt performance from beginning to end.
As Mr. M, Brown-Orleans navigates the most difficult emotional changes, transitioning from wise teacher to antiquated thinker. To describe his performance as fiery and passionate would be an understatement. At times he's so overwhelmed and so fervid that he looks as if he's simply going to burst out of his skin.
My Children! My Africa!
ToOct. 14
Studio Theatre
1501 14th St. NW
$34-$57
202-332-3300
It is Welch who deserves special recognition for his portrayal of Thami. With facial expressions alone, Welch can steal the attention away from the speaker and slowly reveal the myriad emotions boiling in Thami. Whether he is reciting poetry or rallying the masses to fight, Welch's Thami is magnificent.
In a play devoted to the power of words, it's easy to pontificate for too long. However, as each monologue captures a new facet of the characters — and South Africa — without them layers of the country and its complexity would be lost.
In My Children! My Africa!, it's hope for something better that fuels the need to hear more, to listen for any hint of a brighter tomorrow. It's this hope, so clearly destined to be crushed, which makes every smile and every tiny advancement in My Children! My Africa! so fraught with despair. In the end, this is Fugard's greatest dichotomy: hope vs. despair.