"Largo" used to conjure images of Lauren Bacall and Humphrey Bogart, or lodge Bertie Higgins' "Key Largo" lyrics in your head. Today, Largo is more likely — at least within the GLBT community — to remind a person of something entirely different: discrimination.
Earlier this year, the Largo, Fla., City Commission voted 5-2 to fire City Manager Steve Stanton, after 14 years on the job, upon learning that that Stanton is transsexual and would be transitioning to female.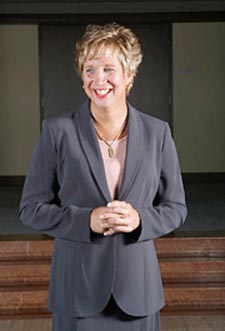 Susan Stanton
"I was extremely close to all of them," says Susan Stanton, who today uses a new first name to reflect her new appearance. "I'd been in most of their homes, their living rooms, at their dinner tables. They were close, personal friends. They were just uninformed and scared. It was so out of character with who they thought I was. People think, 'At least we know what someone's gender is, for heaven's sake.' … The trust they had to give me was total, 100 percent, almost blind trust. When this blew up, it shook the foundations of their belief systems."
Stanton's unique experience will be part of a panel discussion at the Out & Equal Workplace Summit 2007, Saturday, Sept. 29, at 9 a.m., titled "Workplace Transitions in (and Out of) the Spotlight," moderated by a leader in transgender-equality activism, Jamison Green.
"I want to immerse myself in this summit," says Stanton, adding that she believes her career in the public sector is over. "I've been doing so much traveling, so much speaking. It's been a wild four months. I suspect I'm in overtime with my '15 minutes."'
When those 15 minutes of fame do come to an end, Stanton says she'll be looking at new career possibilities, but also dealing with the emotional aspects of her transitioning.
"It's certainly scary. It can be a personal and professional death sentence. Lives, careers, relationships…. Suicide is a very common outcome in this situation.
"[But] I've been blessed with good friends," she continues. "I had a year's severance payment. I've been treated well in my public engagements. But even I find the wall is so high, and the hole so deep."