In case you were wondering, Karen Black, whose acting career has spanned the last five decades, has never seen Karen Black Like Me, the infamous 1997 homage to Black's role in the made-for-TV 1975 Trilogy of Terror, in which a massive dildo attacks a man, much like a killer voodoo doll attacked Black in the original film.
Black has, however, picked up on Trilogy's campy cult status.
"I really have almost no explanation for it," she says. "The only thing I can think of is when you have something that's small and yet relentless and utterly unstoppable, it must remind people of something that's essentially dangerous to them. It's no longer a symbol or a vague notion or a hidden anxiety, it's right in front of them."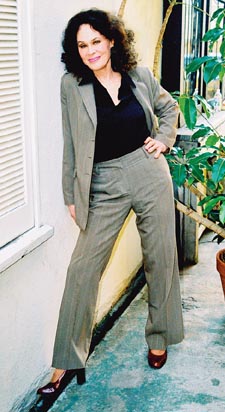 Karen Black
Regardless, Black killed that doll a long time ago — sort of. Certainly, it has no part in the world premiere of her new, one-woman show, How I learned to Stop Worrying and Sing the Song, on Friday, Oct. 19, the opening night of Ganymede Arts' 10-day GLBT Fall Arts Festival at Church Street Theatre.
"I don't like this being called a 'one-woman-show' in the sense that you always think there's something rather expansive about that," Black says. "This is me communicating to the audience about parts of my life, what it's like to be an actor. It's me. There's nothing very complicated about it."
Black notes that she'll be talking about her career, which included the role of Joanne, a transsexual, in the Broadway production and Robert Altman's 1982 film, Come Back to the Five and Dime, Jimmy Dean, Jimmy Dean.
"It took me several months to fully attain the characterization," Black says. "It was very painful for me to do that. But the pain I experienced is the pain Joanne experienced, so it was real on an essential level."
How I Learned to Stop Worrying and Sing the Song premieres at Church Street Theatre, located at 1742 Church St. NW, on Friday, Oct. 19. Tickets are $65. For more info on this and the festival, visit www.ganymedearts.org or call 800-494-8497.