POST-PORN POP… Glenn Soukesian has been singing professionally for over 20 years. But you know him mostly for work he apparently only engaged in for 10 months, several years ago: porn.
"Been around the block you know, some will say that I'm a ho," sings Soukesian, better known as Colton Ford, on forthcoming single "That's Me." Ford finishes the thought: "Don't really care, 'cause they don't know / The man that I have come to be."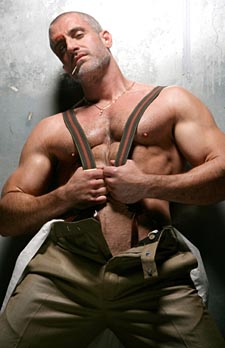 Colton Ford
Ford, of course, has been getting lots of attention the past few years in his attempt to shift from gay porn to life as a successful recording artist — including a documentary about the whole process, Naked Fame. Though his first few singles were dance-pop, it seems he'd rather be known as a blue-eyed soul singer, or at least an R&B-flavored pop singer.
Judging from a preview of his debut album, Tug of War, to be released just after Valentine's Day 2008, it's not the wisest of career moves. We don't mean singing. Though he dives too deep at times and strains to hit higher than it is natural for him to go, Ford's voice is actually better than, or at least as good as, many of today's pop stars. His voice may not be as big as his arms, sure, but at least on this record, he shows he knows how to use it, like the professional he has apparently always been.
For his debut, Ford had the smarts to hire one of the very best up-and-coming dance producers, Quentin Harris. New York-based Harris got his start in Detroit with hip-hop, and his deep-house productions invariably retain a clear R&B influence — they're slightly more sensual than sexual, more erotic than ecstatic. But they set you off better than most harder, louder deep-house productions, and he always works to keep things interesting and intricate. Without Harris' production work quite frankly, on early listen there doesn't seem that much to note about Tug of War. Harris even adds some visual interest to the video for Ford's first single, "The Way That You Love Me." That's Harris who mysteriously and intermittently shows up to sing and dance behind Ford. Harris' remix of the single is a slamming tour-de-force that pulses with emotion. It nearly out-pulses even the one from Rich Morel, who provides deep, pulsating house beats on a regular basis — and here, he drives the bass low three times every measure. Morel's remix is, of course, hazier than Harris's — it wouldn't be a Morel production without a little fog to make you feel woozy, like you just finished watching a Ford performance — and we don't mean singing….
TIMBERLAKE'S INFLUENCE ON GAYS… Colton Ford, of course, continues to garner attention because he still looks as good as he ever did, and gay men are still interested in what he has to offer, even if it's not prurient like before. But Ford is just one of several gay white male singers vying for our attention these days, and in spite of the stereotype — or perhaps because of it — they are not, in the main, creating dance-pop. Instead of Madonna as chief inspiration, Justin Timberlake seems to be a more dominant influence on today's new crop of crooners. The result is as bland and derivative as you might fear. But it's not all bad, and it is nice to see and hear more openly gay pop stars. The more that emerge, the more we'll have to choose from — and hopefully, the more persnickety everyone, from labels to listeners, will become….
Advertisement

| | | |
| --- | --- | --- |
| Naked Fame Soundtrack (feat. Colton Ford) | Justin Timberlake | Bear Tracks 4 (feat. Nekked) |
NEKKED FAME… The gay pop act responsible for the most distinctive remix of Ford's first single certainly deserves more persnickety attention. Nekked is a gay duo — a couple, in fact — who record under the names Sinn and JC Faust. (They also produce what is an apparently wild and wonderful monthly Newd party at the New York Eagle.) For Ford's "The Way That You Love Me," the duo added guitars and drums, producing both a gritty Rolling Stones-style rocker and a high-octane club banger, all in one. Nekked is no stranger to porn: The duo actually won a GAVYN award for best music score for La Dolce Vita, one of several films they've scored for Lucas Entertainment. It's harder than most to pin down this duo to any one genre. Its debut album, A Barrier of Skin, available on iTunes, includes two dramatic dirge-like covers, one of ABBA's bouncy pop classic "S.O.S.," the other of Paul Simon's mournful "The Boxer." The duo actually registers like a modern-day Simon & Garfunkel. Sinn and JC Faust harmonize as tight and fantastically as Paul and Art did decades earlier, which you hear clearly on single "Breathe," yet another track Morel remixed. Actually, it's one of two tracks Morel co-produced for the duo's album.
Compared to Simon & Garfunkel though, Nekked is gayer and more based in rock than folk — and also more immersed in technology. Nekked create dazzling layers of electronic and vocal instrumentation, nowhere more apparent than on A Barrier of Skin's best track, "Wave That Takes Me Under." It's an all-systems-go ode to risk-taking that repeatedly brings life to a key lyric: "And sometimes I'm a prisoner of my own mind/Just flowing in and out with the tide." The tides are flowing all right — this wave is only for those passionate pop music lovers willing to risk drowning in a sea of anthemic cacophony. How will you know you'd survive if you never try it?