It's not clear how much of Madonna's next album will feature work from Tim "Timbaland" Mosley and Justin Timberlake, or whether Timbaland's protégé Nate "Danja" Hills will play a part. But Madonna is only the biggest pop star soliciting hits from Timbs Inc., today's leading hitmakers. Hills, after all, just turned in a valiant effort to give people something to talk about other than scandal when the subject is Britney Spears. (Even as good as his work on Black Out is, you can't help but chuckle at the spectacle.)
The Virginia Beach-based music plant's strangest revival project of the moment is one Duran Duran. If you didn't know these '80s Brit-pop hitmakers staged their own comeback effort a few years ago… well, they're hoping you'll at least come back to them now, nearly 30 years into their career. You and a whole new generation of pop lovers.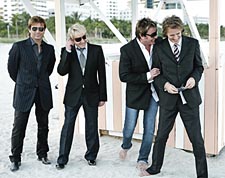 Duran Duran
Timberlake co-produced and provides backing vocals on first single "Falling Down," just one of several Timbs-produced tracks that certainly could be hits, sounding as good as most of today's pop hits. These predictably futuristic sounding songs are also often as good as past pop hits from Duran Duran.
The album draws its name from a track about the cutthroat fashion industry, as fitting a topic as any for this fashionable fab four (now that lead guitarist Andy Taylor has left the original Fab Five again). Duran Duran has always seemed at least as much consumed by fashion and the high life as music. And musically, they've always valued style over substance. The sound is generally fresh and rarely objectionable or risky — as tasteful as the trendy suits the lads wear. And the lyrics are, at best, forgettable.
So the band's hiring of the leading music designers to freshen their brand of fashion isn't surprising. And on face value, it's a success. Though there are occasional moments, like on the great "Skin Divers," where you barely hear the band at all, it still generally sounds like Duran Duran. It's still generally unobjectionable, widely appealing pop. The lyrics are as forgettable as ever, and worse, filled with one cliché after another. At least the band's music is sharper than it has been in a long time, and they even include an instrumental track. Not only is "Tricked Out" nearly as fetching as all the rest, it also saves everyone from what would have surely been more lyrical slop like "Ain't it funny? Box Full O' Honey." No, that ain't so much funny as sticky and annoying.
Ultimately, Duran Duran's latest comeback attempt, Red Carpet Massacre (



), is better than last time, when they released Astronaut. But it's not better enough to matter much. While it shouldn't result in a massacre — and it certainly won't land on any one's worst list — it likely won't stir much attention on the music red carpet. And ain't that a key point of wearing Timbs?
Advertisement

| | | |
| --- | --- | --- |
| Duran Duran: Red Carpet Massacre | Pet Shop Boys: Disco 4 | Seal: System |
It's not clear how much of Madonna's next album will feature work from Stuart Price, either. But the producer of Confessions on a Dance Floor has just applied his brilliant signature light dance-rock sound to Seal's fifth album, System (




). The result: Mr. Heidi Klum's most appealing album in 17 years of recording.
Seal Henry Olusegun Olumide Adeola Samuel got his start on the British house scene, and he's remained a presence in clubs courtesy of dance remixes of his singles. But he has become best known for overly sentimental ballads. His new album, System, is actually designed to appeal to both those wanting ballads and those wanting up-tempo tracks. But it's those up-tempo tracks that make this album so noteworthy, from first single "Amazing" to "The Right Life" to the title track and beyond.
Price has surrounded, and grounded, Seal's shimmering melodies and soaring vocals in layers of synths and guitars. In the process, Price adds an edge to Seal's typical sweet sentiments, which are actually a bit sweeter here, a reflection of his personal bliss. His wife Klum even guests to duet with Seal on one track, which Seal apparently wrote the day of their wedding. She's obviously not much of a singer, though she's as charming on "Wedding Day" as she is on Project Runway, and the two certainly make sweet music together.
Seal says the bland album title refers to the emotional network that keeps relationships going. The title song refers to the care and occasional change needed to keep relationships operating smoothly and satisfyingly. "We keep falling from the system, so it's time for a new, better way," he sings.
There can be no denying Seal is doing his part here in his relationship with a listener. This is new, better music to make you happy.