"I just love [the name] Sin," Sin Morera says. "I mean, when you meet me, I look like sin. I just have that edgy, badass [sensibility.]"
Sin is, in fact, Morera's actual middle name. But it's a name he's gone by the name since he was a "pretty bad kid" in grade school. In the two decades since, Morera has gone from hanging out as a way-underage teenager in New York nightclubs, to writing music for Gloria Estefan and Jon Secada, to working with Junior Vasquez and Frankie Knuckles. Finally, after a decade of fits and starts, he's finally emerging front and center as a DJ. Morera will make his debut in D.C. this Saturday at Be Bar's Be: Cherry party.
"My sound is pretty unique," says Morera, born in New Jersey to a Peruvian mom and a Dominican dad. He draws more from pop, R&B and old-school house than today's tribal and techno-dominated club music. "I do a lot of samples, loops. I mish-mash old records from [legendary clubs] Paradise Garage to Sound Factory to my own stuff."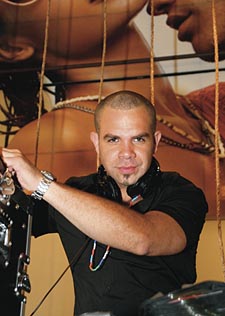 Morena
The 33-year-old Morera took a few years off from music to recover from the death of the maternal grandmother who actually raised him. "Her passing was very difficult for me. I was basically crippled emotionally, and I couldn't DJ or write or produce."
Morera is eager to be back in the music business, and has plans for more songwriting and production in addition to making his mark as a DJ. The mark he'll make isn't just about a particular sound. It's also about sight and smell. "I love my incense when I DJ. I love my candles when I DJ," he says. "It just helps me channel into the spirits of the room. I can't DJ without them."
Sin Morera will spin this Saturday, November 10, at Be Bar, 1318 9th Street NW. Doors open 10 p.m. For more info, visit www.bebardc.com or www.myspace.com/sinmorera.