Somewhere along the journey the Hispaniola lost its way. And, unfortunately, the storied ship from Robert Louis Stevenson's Treasure Island is not the only thing to drift astray in the Round House Theatre's production of Ken Ludwig's adaptation.
Billed as an alternative to the traditional holiday fare filling area stages, Treasure Island fails to make any true commitment to what it wants to be. Too dark at times to be a play for children and too silly at other times to be a show intended for adult sensibilities, the production wanders in an uncomfortable territory where it becomes difficult to discern the dramatic from the comic.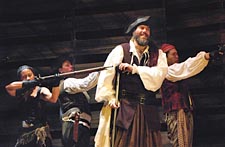 Treasure Island at Round House Theatre
More disappointing is the fact that Treasure Island has all the makings of a splendid stage fantasy for the entire family. A young man, Jim Hawkins (Marybeth Fritzky), finds himself plucked from his quiet life and set about on a search for the pirate treasure of the legendary Captain Flint.
It all begins one night as Jim is tending to the customers in the inn he runs with his mother. The normally peaceful lodge, filled as it is with familiar faces and neighbors, is disrupted by the arrival of the boisterous and bullying Billy Bones (Ethan T. Bowen). Bones forces the other customers to drink with him, sing with him and raise a glass of rum to keep him entertained.
In addition to drawing the disdain of the other residents of the inn, Bones' presence also quickly attracts a mean-faced crew of pirates including the feared Blind Pew (Michael Tolaydo) and the ruthless Black Dog (Michael Anthony Williams).
While Bones is able to hold the attacks of his former piratemates off for a good deal of time, he is finally done in not by a sword but by a heart attack. Before dying he slips Jim the treasure map the other pirates are seeking. Young Jim manages to grab his mother and run from the inn before it is sacked by the pirates desperate to recover the lost map.
Having safely avoided harm or capture, Jim is aided by Squire Trelawney (again, Bowen) and Dr. Livesy (Stephen F. Schmidt) who hit upon a plan to hire a ship and a crew, with Jim as their cabin boy, and find the hidden pirate treasure.
Whether by design or accident Jim's path crosses that of John Silver (Mark Mineart), a one-legged ship's cook who quickly wins the young boy's trust. Before long, Silver has seemingly saved the day by assembling a crew for the voyage — a crew that does not meet with the standards of Captain Smollett (Jeff Allin). The Captain doesn't trust a single one of them and, as the audience and Jim Hawkins learns, he is completely right not to.
Make no mistake, the folks at Round House have more than suitably outfitted this production. Jeff Modereger's sets are utterly fascinating with a stage that spins like a compass in a storm. Richard R. Ryan, the play's fight director, has choreographed some fierce and lively battles that utterly delight.
But the dressing is not enough. Almost across the board, poor accents cloud the actors' delivery and render entire sections of the play illegible. One pirate sounds less like a menacing scourge of the sea than an understudy for Looney Tunes' French-speaking skunk, Pepé le Pew.
If there are two actors saved from wrecking against the shore they are Fritzky and Mineart. The distance between the work they are doing and that being done by their cast mates is sometimes so great that one would believe they are in a different play altogether.
It appears that Round House, for all its earnest digging, has failed to find treasure.
---
AVENUE Q

To Dec. 9
National Theatre
$41.50-$86.50
800-447-7400
Everything that you've heard is true. All the hype, all the praise. It's all true.
Avenue Q might well be one of the smartest, funniest and original musicals you will ever see. Part nostalgia trip down memory lane to a time when PBS introduced so many of us to a completely unrealistic and false image of neighborhood life in the inner-city, part grim reminder of what those first years out of college (armed with your BA in English) were like, this musical has a little something for everyone. Particularly if those everyones are in the mood for a little live, onstage puppet sex.
If you miss your chance to see Avenue Q at the National Theatre, never fear. The talented men, women and monsters of the cast will soon be taking their foul-mouthed puppet show on the road to Baltimore's Hippodrome.