GIVING ULTRA IN 2008… It's only days away now, and the excitement is palpable. The year 2008 holds oodles of promise for pop music in general and dance in particular. Look at all those dance divas getting ready to boogie our way: Madonna, Kylie Minogue, Cyndi Lauper, Kristine W — the list goes on. The line is around the block!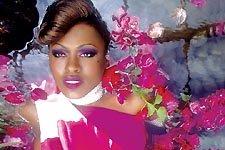 Give It All You Got: Ultra Naté
But several dance divas are already boogie-ing, just waiting for you to catch up and dance with them again. Remember how invigorated and free you felt dancing 11 years ago? "'Cause you're free, you can do what you want to do!" Ultra Naté belted it out in her sultry, sensational voice, and she hit the mainstream. She's had several dance hits since, but nothing quite like "Free," just about the biggest gay anthem ever. Nobody expects her to top that, but at least she has just released an equally indelible anthem.
"Give It All You Got" is actually the third to come from Baltimore-based Naté's Grime, Silk & Thunder album, released right before Capital Pride last year. It's possible this will be no more successful than the first two singles from the album — both "Automatic" and "Love Is The Only Drug" hit big on the charts, but neither got as much club play as you'd expect, nor were they featured on any compilations. The timing just feels right for this kind of anthem, as a new year — an election year — dawns. "Now is the time to pledge allegiance to all you believe in," Naté sings. Plus, it's a key track to appear on the highly anticipated third Alegria compilation. (Keep reading.) Yep, that could do it. As Naté asks in the song, "You're a natural wonder, so why don't you believe?"….
D.A.N.C.E. GRAMMYS… After years of being slighted, Tiesto finally got his Grammy nomination. (Yes, Junior Vasquez, patience — not to mention politeness — pays.) For a change, nominators for the 50th Grammy Awards, to be held Feb. 10, pretty much got it right in the Best Electronica/Dance Album category, where you'll find Tiesto's Elements of Life. (But where is Tiesto rival Paul Van Dyk's In Between?) Other nominees include the over-hyped Justice, with Cross; LCD Soundsytem's second nominated set, Sound of Silver, which should win; and, way out of left field, We Are Pilots by Shiny Toy Guns. This under-hyped New Wave-steeped band is as much alternative rock as it is electronic, but no fan of dance would complain. Definitely worth getting to know.
We Are The Night by British pioneers The Chemical Brothers is the final album nominee. It's certainly the band's best, but I'd rather see the duo win Best Dance Recording for the deliciously devilish "Do It Again." They almost assuredly won't, not up against the likes of Rihanna ("Don't Stop the Music") and Justin Timberlake ("LoveStoned/I Think She Knows"). And here's Justice again, with "D.A.N.C.E.," a sure-fire hit among the preschool set. MIKA rounds out the category, with "Love Today."
This year's pool of nominated remixers in the Best Remixed Recording, Non-Classical, category is well-known and well-respected — from Carl Craig to Benny Benassi. But the remixed recordings for which they were nominated are mostly obscure, a sign that either Academy voters have become more forward-thinking or more pedantic, depending on your perspective. They're certainly more techno- and trance-focused. Maybe that's why we prefer the very-now house remix of Kaskade's "Sorry" by Dirty South. But Eric Prydz should win it for his noteworthy mash-up with Pink Floyd on the banging "Proper Education."
Notably absent from any of the three categories this year: Stuart Price aka Jacques Lu Cont, who's been nominated every year the past three. He's won three out of five possible statues, two for his remix work (No Doubt, Coldplay), and then last year for his production on Best Dance Album Confessions on a Dance Floor, by Madonna. Clearly the Academy wanted to see him sit out a year, give someone else a chance….
GET SET FOR MORE CHA-CHA… The gay circuit's best DJ and arguably its best party have teamed up once again on a record: DJ Abel Aguilera will finally release Alegria: Universo in February. Nearly two-and-a-half-years after Alegria Musica, this third in the excellent two-disc mixed compilation series from Tommy Boy will feature many new and unreleased tracks, as ever, including one from D.C.'s own Alex Cohen — "Don't Be A Hater," featuring Sasha Fox. Chus & Ceballos, Frankie Knuckles, Louie Vega, Bob Sinclar, Freemasons and other house masters are represented, plus multiple contributions from Abel's Rosabel project with Ralphi Rosario, including one amusingly titled number with Tamara Wallace: "Looking 4 Men (Abel Ho-ing Dub)." A few more divas are here too: Tamia, Jeanie Tracy — and Ultra Naté, of course…
NASTY FEEDBACK… Janet Jackson will also return next year, or four years after the Super Bowl performance that punted her career. (But not that of her co-star Timberlake.) Her new album Discipline is set for release Feb. 26. To ensure maximum exposure, she worked with nearly all the latest hitmakers. That didn't exactly help Britney Spears, of course. And if you thought Britney's latest was nasty, well — this is Miss Jackson, remember. Her new single, "Feedback," is a scorcher and we don't just mean musically. "Strum me like a guitar, blow out my amplifier/When you hear some feedback, keep going, take it higher," Janet coos in her breathy delivery. Should be a wild video. Jackson is also expected to tour this time around….
From YouTube: Ultra Nate Give It All You've Got