If ever you've been torn between stand-up or improvisational comedy, comic Jennie McNulty feels your pain.
"It's not a sketch show, not just stand-up — it's both," promises the Long Beach-based McNulty, who, along with fellow funny people Jason Dudey and Erin Foley, are bringing their show Queer On Their Feet to both Alexandria and Baltimore.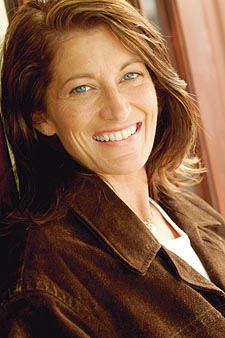 Jennie McNulty
Three gay comics traveling together may sound more like drama than comedy, but McNulty says the trio get along well. "We just have to stop every four minutes for Jason to have a cigarette," says McNulty, adding that as a tackle-football player in California, she and sports fan Foley have plenty to talk about on the road. Dudey, she says, prefers brunch.
As for local tackle-football-playing women, McNulty sweetens the deal: "Bring your jerseys and we'll give you a discount!"
Friday, Feb. 8, at the Birchmere, 3701 Mt. Vernon Ave., Alexandria; and Sunday, Feb. 10, at The Patterson, 3134 Eastern Ave., Baltimore. Tickets are $20 and $15, respectively. For more information, visit www.myspace.com/queerontheirfeet.