In an age when so many writers of plays (and prose, for that matter) doom their characters to nausea-inducing sincerity or overcooked irreverence in the hope of capturing the biggest possible audience, it is beyond refreshing to discover playwright Mary Zimmerman who writes for the smallest market share of all: educated cynics who like their fairy tales fractured, funny and riddled with loss and death. Judging by the wildly enthusiastic audience reaction to the Shakespeare Theatre Company's Argonautika, this is an underserved community.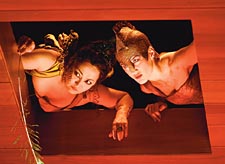 Argonautika
In this modern adaptation of the ancient Greco-Roman saga of Jason and the Argonauts, Zimmerman, who also directs, brings alive Jason's quest for the Golden Fleece with a perfect blend of pizzazz and the joys and liberties of storytelling. As hilarious, funky and physical as this production is, we are never more than a hair's breadth from a narrative that operates on all manner of levels. Beneath the musical language, the acrobatics, the puppetry, lie the insatiable appetites of man, the "collateral damage" inherent in the taking of power, love's wild and mad addiction, our human dreams and wonders of death, and the exit door itself.
Realizing Zimmerman's supernatural vision and working the wonderfully simple ship-like set literally from top to bottom is a superb ensemble cast. Two goddesses, Hera and Athena, both drive and reflect upon the unfolding drama with intriguing detachment. Lisa Tejero is a mesmerizing, otherworldly Hera, her face in turns blank, mischievous, and then devious. Sofia Jean Gomez embodies Athena with complete conviction, her fluid body convincingly omnipotent. She is the prime narrator of Jason's physical and emotional journey and her rich voice fills the curtain-less scene changes like a wonderful returning musical theme.
Of the mortals, Allen Gilmore steals nearly every scene with his several characters, including Jason's nefarious uncle Pelias. Gilmore is tremendously funny, but what separates him from shtick is the deep river of human motive and complexity roiling under the surface. We may laugh at Pelias but we are also afraid of him. Among Jason's shipmates, there are so many good performances and with every actor setting up the jump for everyone else, it seems unfair to single anyone out. Suffice to say that Soren Oliver delivers a memorable Hercules, and Jason Vande Brake, Andy Murray, Casey Jackson, Justin Blanchard and Jesse J. Perez create a fully alive, convincing crew of souls. Though Jake Suffian gives a physically well-realized Jason, his voice and emotional depth seem stilted in comparison to his colleagues.
The second half of the play shifts from seafaring adventures to the kingdom of Aietes where Jason must find a way to steal back the Golden Fleece. Here we meet Aietes' daughter, Medea, the young woman destined to help Jason in his quest and we watch as she is caught by all-consuming love like a butterfly in a net. Her "restless night" is beautifully and originally expressed. Atley Loughridge gives us another complex portrayal — the feverish, innocent Medea who is yet her ruthless father's daughter. Sadly, her moments with this rather subdued Jason lack the expected chemistry. Indeed, the love affair is also the only place in the play where the excellent pacing falters; the lovers' meetings lag while the end of the affair comes and goes in a whirlwind.
Still, nothing can beat the fact that Zimmerman has electrified this enduring tale with just the kind of irreverence, gallows humor, magical charm and sweetness that will tickle the most skeptical heart.