What are the words that describe a Subaru?
Useful.
Utilitarian.
Practical.
There's a theme, you see.
That's not to say the 2008 Subaru Outback is solely about pragmatism. As with most of the Japanese manufacturer's all-wheel drive offerings, the Outback also sports mature and quietly understated good looks. And underneath the skin of the Outback 2.5 XT lies a turbocharged engine that gives a good kick when you hit the accelerator.
It's a good balance between go-go-go and everyday practicality.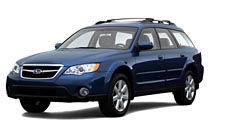 2008 Subaru Outback 2.5 XT Limited
The Outback's interior continues that balance with leather-trimmed seats and soft-touch plastics offset by red-lit instrument gauges that provide a visual edge. Even though the Outback functions like a station wagon — four doors to ample seating for passengers, with tailgate access to a good-sized cargo area — its aim is to provide the driver with a far sportier experience.
2008 Subaru Outback 2.5 XT Limited
$32,477
Gas mileage: 18 city/24 highway
Highlights: Strikes a strong balance between the sporty and the practical.
Lowlights: Loads of extras make top-of-the-line model a bit pricey.
Like many cars seeking to add a "sport" feel to less than sporty cars, the Outback features paddle shifters on the steering wheel. Myself, if I want to shift gears in a car I'd prefer to just have a manual transmission. I'm not convinced paddle shifters are used much beyond the first month or so after purchase, once the novelty wears off.
Being the top-of-the-line Outback, the 2.5 XT tops out well over $30K — you can pass on some of the luxury touches and start with a base model for just over $20K. Either way, you're looking at a well-established part of the Subaru family that offers a lot of value — and fun — for the price.