"I would someday love to write a great love ballad," says jazz singer-songwriter Felicia Carter, appearing this weekend at Twins Jazz on U Street. "Somehow all of my ballads end up being sort of bittersweet."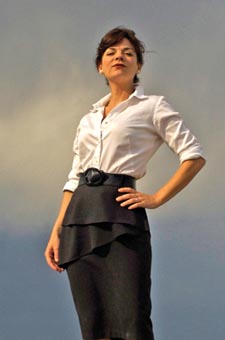 Felicia Carter
The D.C.-reared, Baltimore-based singer may not have obvious love songs in store on this love-soaked weekend. But you just may fall in love anyway.
An emerging songwriter, Carter is set to attract increasing attention courtesy of her new traditional jazz- and blues-steeped double-disc set Feather/Step Lightly. The 38-year-old singer has a small yet expressive, brassy voice likened to Judy Garland, even Billie Holiday. And she composes tightly arranged emotive music with very visual, sophisticated lyrics.
"The album grew out of a hard time for me, a growing time," says Carter, explaining that she hopes her music helps others. "I really want it to be the case where, if someone's in a really bad place and they hear my music, despite themselves they might cheer up just a little bit."
Appearing Thursday-Saturday, Feb. 14-16, at Twins Jazz, 1344 U St. NW. Tickets are $15. For more information, visit www.twinsjazz.com or www.feliciacarter.com.
Advertisement

| | | |
| --- | --- | --- |
| Felicia Carter: In the Pink and Songs in Blue | Dolly Parton: Backwoods Barbie (CD or MP3 download) | Taylor Dane: Satisfied (CD or MP3 download) |