About 150 people gathered around the Dupont Circle fountain on Monday, Feb. 25, to light candles and sing, "We are Gentle Angry People." Angry over the murder of 15-year-old Lawrence King, shot in the head on Feb. 12 by a classmate in a suburban Oxnard, Calif., junior high school. He died the next day.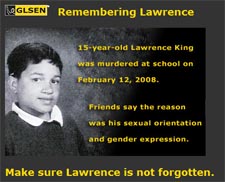 GLSEN's website featuring photo of King
The event was organized by the Gay, Lesbian and Straight Education Network (GLSEN), which organized similar vigils across the country in memory of King and other students who are bullied for being GLBT.
Christopher Dyer, director of the Mayor's Office of LGBT Affairs, and Andrew Barnett, of the Sexual Minority Youth Assistance League, were among the speakers. Amena Johnson, an organizing associate of the D.C. chapter of GLSEN, said she was happy with the turnout at the Dupont Circle vigil.
"It was great to see so many people show up on such short notice," she said. "We planned this in a day and a half."