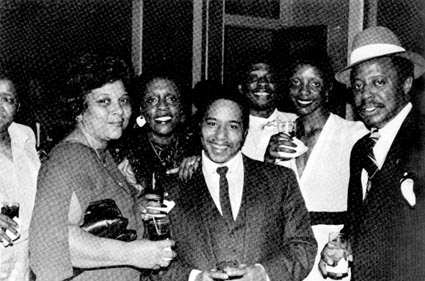 A visit to the Best of Washington's Web site isn't exactly a celebration. It's something more like a remembrance. The "news" section, for example, offers four stories. Three of those are obituaries bidding farewell to Best of Washington members: Willette Griffin, who died Dec. 4, 2007; Sheila Jones, who died Jan. 13; and Berrita Parker, June 22, 2006.
This 21st century nod to maintaining a Web site is a far cry from the heyday of one of the country's foremost African-American GLBT social clubs, running in some fashion or another since 1974.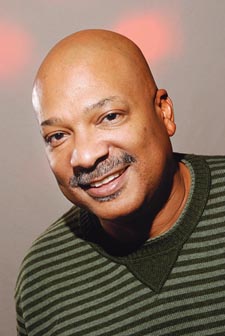 Otis "Buddy" Sutson
Today, apart from the virtual world and in the real one, the Best of Washington still has a presence in the District, offering an annual picnic during the first weekend in August at Maryland's Fort Washington park.
"I'd be there today if it weren't so damn cold!" jokes Greg Jackson, pointing to D.C.'s winter weather. "The minute spring rolls around, I'm getting my summer calendar going. I make sure I'm in town." Jackson, 51, has been associated with the group since the early '80s. He calls himself "junior of the group," with a laugh, but he may not be so far from the truth. What's at stake, if anything? What has BW given Washington, and what might the District lose if the club fades sooner rather than later into history? To get a better grip on questions like those, one has to go back to the beginning, considering there may be more than a few young GLBT Washingtonians who have never heard of the Best of Washington or its contemporaries.
Maybe they can relate somewhat to Otis "Buddy" Sutson, who found himself in D.C. in the late 1960s after a tour in Vietnam, in his 20s and coming to grips with his sexual orientation.
"I was working for the Department of the Army, living in Southeast Washington," remembers Sutson, now 61, jumping ahead a couple years to the early 1970s. "I met Bob Lomax through a neighbor. I was looking to buy a home, and he was a real-estate agent. The neighbor who introduced me to him, she was not gay herself, but she had a gay following. I guess she recognized my gay tendencies. She would have card parties, and that's how I met Bob."
From these little potluck parties of about a dozen people playing "wisk" at a private home, Lomax, a San Francisco transplant, had grander ideas. He had a social club in mind. Of course, the notion of an African-American GLBT social club was not new at the time. One reason for the clubs — which one could argue go back as far as the black, gay salons of the Harlem Renaissance in New York or earlier 1920s gatherings in Washington that included Langston Hughes, Bruce Nugent, Angelina Weld Grimké and other rising stars of the African-American GLBT universe — was an uneasy, covert chasm between black and white gays in D.C. and other cities.
"We'd hit the 'white bars' as we called them," Sutson explains, citing black patrons sometimes being asked for more forms of identification than their white counterparts, and other discrepancies. "You just felt like you weren't welcome. We were never thrown out of any establishments or anything like that. It just felt cold. It wasn't a warm environment."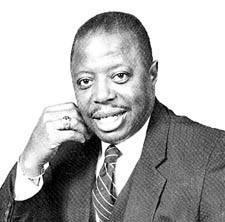 Bob Lomax
So when Lomax suggested a new club, Sutson agreed to help, even if he wasn't exactly certain what path they were setting out on.
"The plan was to raise money so that we could have more elaborate functions, more organized functions," he remembers. "It was all new to me. I was just following Bob's lead. He just needed support, and I was basically that support. We started out selling chicken sandwiches at different parties to raise money, and we did. People realized that we were going to try to do something different in terms of entertainment for ourselves."
The entertainment and parties to come remain legendary. Pop culture might remember Studio 54, but the Best of Washington's All-Night Struts have also left a legacy of stories worth telling.
"As Bob's confidence in me grew, I became responsible for the 'All-Night Struts,"' says Sutson, who today serves as BW's chairman. "We had to basically turn the Elks Lodge into a dancehall. It was where the Convention Center is now sitting. I'd say they ran from about 1975 to '83 or '84.
"It was a great time. It was wonderful. We would bring in special DJs, set up lighting. It was definitely disco. We became very successful with the All-Night Struts. The ClubHouse was also doing the same thing," he adds, referring to the similarly legendary non-profit nightspot at 1296 Upshur St. NW. "We began to compete with them. We had a draw in that we would serve what we called 'acid punch' — not legal at all, of course. It would lift you up and you would dance all night."
Despite the illicit LSD in "acid punch," the All-Night Struts were orderly affairs that lasted till dawn and got little attention from the Metropolitan Police Department. Sutson does recall, however, that parents would sometimes upset the evening for a few moments, looking for their children at the venue.
"We made connections with people all across the country," he says. "They would come just for that experience. As a community, we were coming together. We were all in there together: straights, drags,…all there having a good time."
And those good times rolled further along than just the All-Night Struts. The Best of Washington also become famous for high-end hotel banquets, pulling out all the stops. These parties were dubbed "Watergate Affairs," so named for the site of the first such party.
Sutson says that while breaking down barriers based on race and class, these prestigious events could be very empowering for BW members.
"We opened the doors," he says. "Some people had never been inside some of these hotels. Their mother may have worked there, but they'd never been inside as a guest. It was all new to a lot of people. The social graces were there."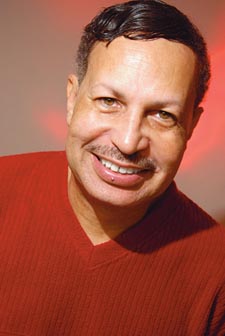 James "Juicy" Coleman
James "Juicy" Coleman, today the president of BW, says Lomax may have held to key to the club securing space at these posh venues. Lomax, after all, had a friend in a very high place. Not only was Lomax the director of housing in the administration of then D.C. Mayor Marion Barry — now a Democratic Ward 8 City Council member — but Coleman says there was a deeper friendship between the two.
"Bob was a very influential government employee," says Coleman. "He was also a very good friend of Mayor Barry. He was actually the best man at his wedding to Effi Barry. He was very politically connected and able to open doors for the Best of Washington, where other organizations couldn't get in — the luxury hotels and those kinds of things. When Bob placed the call, the call was answered.
"By the mayor being good friends with Bob, he was very, very supportive of the Best of Washington. And Bob would show him how professional the GLBT community could be and how supportive we could be for him politically."
That alliance was forced to an end prematurely when Lomax died of an AIDS-related illness in the late 1980s. As AIDS decimated the gay men in the District, the Best of Washington found itself fading. Though the club prided itself on its integrated mix of genders, the toll the AIDS crisis initially took on the male membership was likely too deep a wound to mount a full recovery. The All-Night Struts ended in the early 1980s. Eventually, the Watergate Affairs and BW's annual awards series — the celebrated Alice Awards — would wind down, too.
"That put the brakes on everything," Sutson says flatly. "It put a halt to all the activity. We lost a lot of key people. Our brain trust was basically destroyed. Leaders were taken overnight. It was a rough period. To be honest, I don't think we've ever recovered. We have moved on, changed our direction. Maybe that's a result of HIV and AIDS — and our growing older. But I don't think we every truly recovered. That period is gone, and our lives have changed forever. We have a different outlook on life at this point."
Coleman offers a similar perspective. "So many of the key stakeholders and leaders in the African-American community are no longer with us. Many of the gay men were lost to the HIV/AIDS epidemic. Many of our lesbian leaders we're lost as well.
"Buddy and I often sit back and say, 'Look at us. We're the ones who are still here. So what are we going to do with this organization?'
"There are so few of us left," Coleman continues, explaining that there is still a place for the Best of Washington, albeit with a new direction. "We prefer to do work with a philanthropic approach, assisting the needs of persons in financial difficulty, or people who have passed away and need money toward their burial. Those are the things we've been honored to be in a position to provide, due to the fact that we are operating under an annuity from the founder, Mr. Lomax."
While neither Coleman or Sutson are willing to offer the financial specifics, they both point to Lomax's financial legacy, of which Lomax named Sutson as trustee. Aside from philanthropy, the Best of Washington has also been able to commission Mark Meinke, chair and founder of the Rainbow History Project, to write a detailed history of the club, which is posted on the Best of Washington's Web site.
Bringing the story back to the 21st century brings the Best of Washington back to the question of its future. Sheila Alexander-Reid is in a good position to offer a measure of advice from her own experience. She spent years promoting social events for lesbians of color in D.C. under the "Women in the Life" banner. Today, the parties have made way for the Women in the Life Association, which takes on same-sex domestic violence and wills for GLBT people.
"Because it's an older organization, the members are getting older," says Alexander-Reid, who has been recognized by BW for her contributions to the community. She's also a familiar face at the club's annual picnics. "They're probably having some issues with maintaining membership. I would suggest that they have to reach out to the younger community to stay afloat, to stay active. I think they serve an older niche. To some extent, they can still do that for a long time to come….
"Or they're going to have to become defunct," she continues, "and nobody wants to do that. But you know, a lot of organizations, they serve their purpose and then their time has come. They have to decide that for themselves…. They may be tired and think that their best days are behind them and they want to take it easy and look back on what they've accomplished — and they have the right to do that. They have to decide for themselves."
Another local organization closely aligned with the Best of Washington is Us Helping Us, which awarded BW it Thurlow Tibbs Award in 2005 for aiding in the fight against HIV in the District. UHU's executive director, Ron Simmons, also a familiar face at BW's picnics, says that social clubs may have a more difficult time finding ways to grow, than do political or service organizations.
"Either the Best of Washington will find a way to renew itself and continue to be vibrant and alive, or it will not, and something will take its place," Simmons says. "What's going to happen is going to happen. If the need is there, it's going to be met somehow. Social groups, since they're not organizations with services and missions, are going to be more generational. The reason for them coming together wasn't to set up something in perpetuity, like setting up services for AIDS or a shelter. When that social circle — and it's a social circle, not a political circle — begins to die out, there's a good chance the organization will die with it. And new social circles, which will always happen because that's the human dynamic, will begin to form….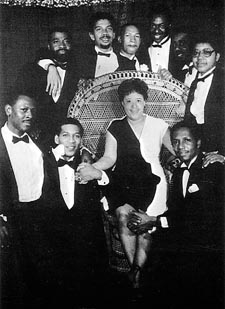 Best of Washington
"The issue of surviving, going on or not, is not in my hands. But I certainly want to go on the record saying [Best of Washington] should be continued. The challenge is going to be passing on that mantle to younger social circles to make it happen."
For their parts, Coleman and Sutson have a grip on warm Best of Washington memories, but don't seem at all ready to end the story.
"I see a future for this organization," Coleman insists, joking, however, that if he looks too far into the future, he can't help but see Sutson and himself in wheelchairs. "We haven't quite figured it out yet…. We will be shifting our focus and mission in the near future, but I don't want to jinx it by putting it out there yet. But we do realize that in order for [BW] to survive, we must make some major changes."
Coleman adds that his HIV/AIDS expertise — he worked for Whitman-Walker Clinic until very recently — and Sutson's, who serves as acting director for Damien Ministries, may come into play as they work toward making the Best of Washington a 501c3 non-profit, service organization of some sort.
As for Sutson, he says thinking about the future of the Best of Washington and his responsibility for the fund Lomax left behind has stopped keeping him awake at night.
"I just wish I had a crystal ball to see where it's going," Sutson shares. "I'm a very religious guy in a sense and I used to wonder why Bob Lomax would leave me in charge of this trust. I guess it's because he thought I would keep it going. I don't think he realized the challenges. Or, maybe there is something else around the corner? The answer is to make sure it's really directed at the right place. I just want to make sure before my day comes that everything is set in place.
"I work closely with Rainbow History Project, and they have been instrumental in recording our history. That's given me some joy. I sometimes think maybe that's the way we should go, in terms of those funds. I think about them and Brother Help Thyself, organizations doing so many things. It's the kind of work I think we could be doing."
The Best of Washington's history is detailed on the group's Web site, www.bestofwashingtononline.org.
The Rainbow History Project, which has collected oral histories from Coleman and Sutson, has more information about the history of D.C.'s African-American GLBT social clubs at www.rainbowhistory.org.