The Falls Church City Council has named Nicholas F. Benton, the out gay editor, founder and owner of the Falls Church News-Press as "2007 Business Person of the Year. " The mainstream, community newspaper also features a weekly column dealing with GLBT issues.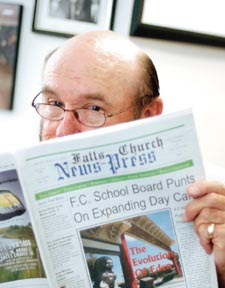 Nicholas Benton of Falls Church News-Press


[file photo]
While the paper itself has won accolades — twice winning the "business of the year " award — and Benton has been similarly lauded by the Falls Church Chamber of Commerce, this particular honor is a first for Benton.
"I'm obviously very pleased, " he says. "It's always heartening to receive some recognition and acknowledgement for efforts undertaken to better your community…. For them to actually give the award to me as a person has special meaning to me. I put all my creative energies in the community, such as the Diversity Affirmation Education Fund. "
Benton established the Education Fund with an initial grant and a goal of teaching tolerance to Falls Church youth. His efforts led to a signature event, "Challenge Days, " being added to the school budget.