Don't let her name scare you. The Brooklyn-based performer, who has forever written off her birth name in exchange for "Bitch," is actually quite pleasant. Think of her name as a metaphor and you might get it.
"It's our job to let ourselves be big and bold and shamelessly creative," Bitch says. "It actually offers people relief from the mundane American Idol-ized reality that we've created in some horrible, pathetic way."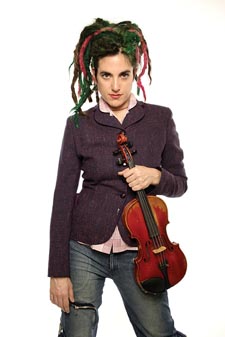 Bitch
Bitch did that for many years with Bitch & Animal, the musical duo whose lyrical content in songs like "Pussy Manifesto" and "Best Cock on the Block" was loud enough to generate a solid following and land the group several collaborations with independent guru Ani DiFranco.
Bitch brings her blend of spoken-word rhymes and vocal styling backboned with the bass guitar and violin, to the Iota Club & Café, in Arlington, on Thursday, March 20, with her new band, The Exciting Conclusion.
"Something that's happened over the last year or so, since I was last in D.C. with my band, is that we've grown a lot closer," she says. "There's a lot more power happening on stage than ever before."
Though her father loved jazz and her mother sang and taught tap in the family's basement, Bitch's fascination with the violin led her in a different direction. She studied classical music from an early age through high school.
"Then I surprised everybody and auditioned to go to acting school in Chicago. That's where I met Animal."
And where did the name Bitch come from?
"It came from a crazy idea me and Animal had one day," she says with a laugh. "It was probably a little mushroom-induced."
Bitch and The Exciting Conclusion perform at the Iota Club & Café, 2832 Wilson Blvd., Arlington, at 9 p.m., Thursday, March 20. Tickets are $12. For more information visit www.bitchmusic.com.