After years of fronting New Zealand alternative rock band Betchadupa, 24-year-old singer-songwriter Liam Finn has struck out on his own and fully embraced his musical heritage on his debut solo album, I'll Be Lightning. Like his father — Neil Finn of Crowded House — Liam has a gift for melody and lush Beatlesque arrangements.
Finn has never strayed too far from the guiding graces of his father. As a teenager with Betchadupa, he opened shows for Crowded House in the late '90s, and last year when Crowded House reformed he even joined as a touring member, pulling double duty as the solo opening act. That training ground has served him well.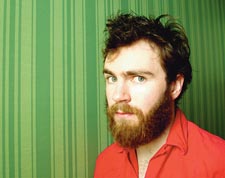 Liam Finn
Finn recorded Lightning in his father's home studio using an analog deck that once belonged to The Who. His goal was to capture, sans computerized mixing, the spontaneous feel of a demo recording. A diehard do-it-yourselfer, Finn wrote, produced and engineered the album himself. With rare exceptions, he also played every instrument on the album, making vocal and instrumental loops and playing them directly onto tape. The resulting album is an impressively raw, low-fi collection of 14 songs enveloped in gauzy guitars and dense arrangements.
Finn is especially effective in layering his own vocals to dramatic effect, creating ghostly choruses. At times, such as on "Fire In Your Belly," he creates with his rich falsetto harmonized vocals reminiscent of Pet Sounds era Beach Boys. Other times his vocals are layered as thick as a church choir. Nowhere is this studio trickery more brilliantly displayed than on the mostly a cappella "Lullaby."
In addition to multi-tracked vocals, Finn creates a gorgeous, sweeping kaleidoscope of layered instruments and sonic textures. Though he experiments with distortion, feedback, electronic flourishes, and electric guitars with heavy effects pedals to create atmospheric backdrops, Finn keeps his acoustic guitar at the heart of his compositions.
The Beatles comparisons are most evident on the loosely strummed "Wide Awake On The Voyage Home" and on the experimental title track, equal parts Lennon and McCartney. Elsewhere, Finn's music bears more than a passing resemblance to that of the late Elliott Smith, albeit with a sunnier outlook on life.
The songs on I'll Be Lightning are the product of a particularly rough year in which Finn faced evictions, muggings, thefts and the ending of a long-term relationship. While the songs may chronicle personal and intimate subject matter, the abstract lyrics frequently make them difficult to decipher. "Remember When," about coming to terms with a failed relationship, is one of the few straightforward lyrics. Luckily, it's easy to get caught up in the deeply textured tunes, then realize later, after repeated listening, what the songs are actually about.
"Better To Be," with its shifting tempos, jumpstarts the album with layers of swirling electronics and an effervescent falsetto chorus atop an elastic bass-heavy groove. The first single "Second Chance," with its driving backbeat, swelling chorus, and dazzling chord progressions, is one of several highlights of the album. Other standouts include the delicately droning dirge "Gather To The Chapel" and the beautiful piano ballad "Shadow Of Your Man."
LIAM FINN
I'll Be Lightning
Yep Roc Records

Appearing Live
March 19
9 p.m.
DC9
1940 9th St. NW
$10
The volatile aural assault of "Lead Balloon" serves as a powerful counterbalance to Lightning's predominantly laid-back chamber pop. The song gradually morphs from acoustic folk-rock into late-'60s psychedelia before erupting in a feedback-fueled frenzy and a screamed "yeah, yeah, yeah" chorus.
While I'll Be Lightning is indebted to the layered sounds of both Pet Sounds and Sgt. Pepper's, it falls far short of the symphonic heights of either landmark album. Finn may have taken his cues from classic pop songwriting, but he put his own indie-rock stamp on it. Ultimately, Lightning reveals new layers of intricacy with each rewarding listen, proving that following in dad's footsteps isn't such a bad career path after all.
From YouTube: Liam Finn: Second Chance
Advertisement

| | | |
| --- | --- | --- |
| Liam Finn: I'll Be Lightning | Tim Finn: Imaginary Kingdom | kd lang: Watershed |