As a child in rural Illinois, Mark Meinke read the Seven Pillars of Wisdom, T.E. Lawrence's account of his time spent with the Arab Revolt against the Ottoman Turks. Lawrence of Arabia's autobiography may have been the spark — Meinke is not certain — that ignited his lifelong interest in the Middle East.
That interest led Meinke to Lebanon in 1969 as a history undergrad studying the nascent Palestine Liberation Organization. In the late 1970s, he returned, this time to the American University in Cairo and graduate studies in linguistics.
"When I lived in Egypt was when I really fell off the face of the earth," Meinke remembers. "I got to know a whole group of people in the Old City in Cairo. Some of the people were hash dealers. I acclimated or acculturated so well that actually some friends of mine had to come down and find me and drag me back. I became part of the local scene."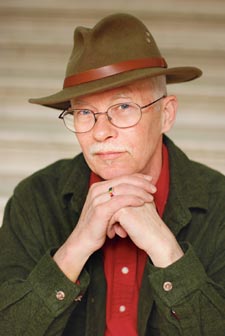 Mark Meinke
That sense of immersion remained with Meinke, later in Kuwait, with his adopted tribe, the Beni Murra, who called him Musa'ab Abdallah Al-Zammat. But rather than lose himself in exotic bazaars, Meinke found himself in Kuwait's limelight, offering colloquial Arabic lessons to English speakers on a TV show called Take Two.
He speaks of time spent in Saudi Arabia less fondly, counting down his time there to the hour.
Still, as homophobic as the Middle East may appear, Meinke says he had little trouble awakening as a gay man.
"The whole Middle East operates on the principle of private vices, public virtues. As long as you're not terribly out, it's not a problem. My first lover was in Kuwait. He was Egyptian."
But facing 40, Meinke found himself at a crossroads that led him back to the United States, first to Illinois, then D.C. But while a newcomer to the District, in some regards, Meinke's investment in Washington is paying dividends for the entire community in the form of the Rainbow History Project.
Founded in 2000, the Rainbow History Project gives Washington its first bona fide GLBT archive. It's a grassroots historical organization whose mission is to "collect, preserve and promote an active knowledge of the history, arts and culture relevant to sexually diverse communities in metropolitan Washington, D.C."
Meinke spoke with Metro Weekly March 21, one day before a reception to celebrate a new archival partnership with the Historical Society of Washington.
METRO WEEKLY: Did you want to return to America from the Middle East?
MARK MEINKE: Yes and no. I had a strong sense of belonging in Kuwait and the Middle East. But I was also getting close to being 40 and I realized that if I didn't leave pretty soon, I was never going to leave. I knew a lot of the elderly expatriates in the Gulf, particularly in Kuwait, who had been there so long they couldn't go home again.
MW: How did you end up in Washington?
MEINKE: Friends of mine from the Middle East days were in what was then the United States Information Agency. They recruited me. So I came here and never left.
MW: From your departure to your return in 1989, did you notice much progression in America's gay community?
MEINKE: I really didn't know much about it. I was much more familiar with the gay community in the Middle East and in Europe.
MW: Did you suffer much culture shock back in the United States?
MEINKE: Oh, sure. It was hard to get a job because I had no work history in the United States at that point. The first job I was able to get was as a night-desk clerk for a seedy motel near where my family lived [in Illinois], the Mayflower Inn. We got some very interesting customers. There was one lady who always arrived in a tiger-skin pantsuit with her clients.
MW: D.C. was better?
MEINKE: D.C. is great if you've got an international background. It's a very international city. I was very comfortable.
MW: What was the impetus for starting the Rainbow History Project?
MEINKE: Frustration. After my partner died in '97, I became enamored of the drag scene. I started going to a lot of shows at the Frat House and Mr. P's. [The Drag Rag] sort of started out as a tribute to the drag community, which revived my interest in staying alive. It started out as just a little handout I did at Mr. P's. I started following certain performers around as they performed, like Gucci Renée Blackwell. Then it became a 40-hour a week job. I covered every drag show in town.
MW: What was your partner's name?
MEINKE: Ed Norris. We were together from late '91 till he died in 1997.
The Drag Rag took me out of myself, got me going. At that point, there were about 20 drag shows a week in D.C. Just about every night I was covering the drag shows and writing them up, sewing it together, printing it, laying it out and distributing it.
At the end of that, I sort of decided I wanted to do a history of drag in D.C. I was looking for sources, particularly archives, and discovered not only were there not any drag archives in D.C., but there was no gay-community archive, either. That's when I sent out the notice to bring people together to start Rainbow History.
MW: Can you quantify RHP's accomplishments since its founding in 2000? The number of oral histories collected, perhaps?
MEINKE: I don't know how you quantify the success of something like Rainbow History. Probably not in terms of what it's collected, but in terms of its impact.
As I started looking at D.C.'s gay history, I began looking at the many histories of gay civil rights and gay politics, and discovered that after the Kameny era, the Mattachine era, there was very little coverage, very little mention of D.C. at all. One of the reasons is because there was no place for researchers to go. Now there is.
When we started, there were things we wanted to do: The first thing was to get the oral histories, particularly of people we knew were not well and weren't going to be around, to get their stories on tape. The other thing we wanted to do was to begin outlining, creating a framework, against which to fill in the blanks of D.C.'s gay history.
The first thing I did was begin building a list of all the gay places in D.C., our sort of social geography. I did that by reading the Washington Blade. I went to the Washingtoniana Division down at the MLK Library and I read every Blade from October 1969 through 2000, when we started, and I took notes. I built up what I call the "clubs database," although it's more than clubs, and began building a timeline. Those were the main pillars against which I began filling in the blanks in my knowledge.
MW: Have you done many of the oral histories?
MEINKE: I've done most of them.
MW: Were some of them more memorable than others?
MEINKE: They're all memorable.
When we started Rainbow History, there were four or five of us. They drew up a list of people I should get oral histories from as soon as possible.
I also began trying to find so-called "normal people" — not the overachievers, but just people who happened to be gay, lesbian, bisexual, transgendered — because they're part of the story. Many times, their stories are more interesting.
One of the more depressing oral histories I ever did was of a man in his late 60s. He believed that he had a disease, which was called homosexuality. Every night he prayed to God to forgive him and "cure" him. He'd had a partner for many years and they'd lived a life together apart from the gay community. It was an enormously depressing experience getting his story.
Others were much more hopeful — thank God. It's amazing what people will tell you. Some of it is extremely personal. There are stories of physical abuse, mental abuse. There are stories of great triumph, of hard work and building a sense of community, of building community institutions.
I think the last time I counted we had around 110 or 115 oral histories.
MW: RHP collects artifacts, too?
MEINKE: We do. Our mission has always been to collect, preserve and promote our history. We've never spent a lot of time trying to collect, simply because we have never had the space to put everything we could collect.
MW: What space do you have?
MEINKE: My living room, my bedroom, under the bed. And we have a storage facility on South Capitol Street.
MW: What are some of the items you've collected?
MEINKE: A lot of things we have originally came from Bruce Pennington, who was a co-founder with me of Rainbow History and for many years our vice president. He had kept the papers of Dave Aiken, who had been an Advocate reporter and a member of the Gay Liberation Front. What Aiken did was he kept topical files all through the '70s, into the early '80s. Newspaper clippings.
Pennington, who died in '03, did the same things. Although he wasn't a writer, he kept a lot of topical files. One of Rainbow History's major collections is the Friends Radio tapes, some 300 broadcast and interview tapes that Pennington preserved for 30 years.
Those were sort of the core of our collection. Then people, over time, have said, "We have this," or, "We're moving away," or, "Do you want this?" and we've taken them.
It just keeps growing. History never stops.
We haven't encouraged people to donate, simply because we don't have the space. The problem has been because we use the Web site as a virtual archive, I get a lot of inquiries from graduate students, Ph.D. candidates, who are looking for materials and we don't have a place — I could spread them out on my kitchen or something. That's about it. As our collections have grown and the number of people wanting to get access to them has grown, we've needed a place for people to access them. That's why we a year ago decided to look for an archival partner.
MW: And what will RHP get out of this new partnership with the Historical Society of Washington?
MEINKE: We get a partnership with one of the leading research organizations in the city, which is D.C.-focused. We get a place for researchers and students and members of the community to go and actually use what we have in the collections. It will be there, physically. Actually, this weekend I'll be taking David Aiken's papers over there.
MW: Will this free up some space in your home?
MEINKE: Maybe. My cat will have fewer boxes to sit on, but that's okay. The important thing is that other people will be able to access [the collections].
MW: Are there big gaps in our local gay history?
MEINKE: There's not a lot of documentary evidence before the '60s. Do you know the book Jeb and Dash? It's one of the few books out there that covers sort of the 1920s through the 1940s. It would be wonderful to find other memoirs like that. At this point, it's a single source and there's not a lot more. And a lot of people who lived through the '40s and '50s are no longer with us or are going to be disappearing.
One of the groups that has been hardest to get to do oral histories has been the transgendered community. I've gotten four or five oral histories from members of the transgendered community. I'm looking forward to Trans Pride in June. I'm going to do a workshop on oral history. We don't have to do the oral histories. The point is that someone does them. What I would like to do is get the transgendered community taping themselves.
José Guttierez of the Latino History Project is working on doing that for his group. To me, one of the measures of our success is people start doing what we do, and doing it themselves.
MW: How common is it for an American city to have a gay archive?
MEINKE: Most of the major urban gay populations have had one for many years. D.C. is probably one of the last ones. San Francisco very early on had one. Chicago had one. Fort Lauderdale has a very good and thriving one. New York has had one. Boston has had one.
They are many times archival only, in that they simply collect and preserve. One of the things unique about D.C.'s history group is that we've been more successful at the promotion side. Our walking-tour brochures are very popular and our walking tours are very well subscribed to.
MW: You seem pleased by RHP's evolution.
MEINKE: I'm proud of what Rainbow History has accomplished in putting D.C. back on the map in terms of gay history.
MW: Are there strategies for the RHP's future?
MEINKE: One of the things I'm trying to do is link us in around the country. One of the ways I also want us to go is preservation, getting landmark status for historic sites in our community so it's much harder for them to be torn down — so that things like what happened in Southeast are harder to achieve if you're a developer.
We have a landmark-status application pending for Dr. Kameny's house, which would be the first one here in D.C. There are any number of places I would love to put preservation status on, such as the ClubHouse site on Upshur Street.
MW: How difficult is it to get a site named?
MEINKE: It's a long process. The National Park Service is the prime arbiter in terms of historic-landmark status. For it to be on the federal register, which is really where it needs to be, it has to go through the Park Service. And the Park Service has a 50-year rule: Most sites are not eligible until 50 years after whatever historic association occurred. Which effectively sidelines the entire gay community's historic sites. They made an exception for the Stonewall Inn.
One of the things Rainbow History has done here is a lot of the city is not aware that there are gay people here, that there are gay sites all over the city. I was livid when the Barracks Row tour signs went up. Cultural Tourism D.C., which used to be D.C. Heritage, does these walking trails around the city. You've seen the signs. They list historic sites. They did Eighth Street SE and there wasn't a single mention on there anywhere of that having been a gay site. And there still are gay sites on the street. But we were invisible to the people who were doing that. They had no idea. I went ballistic and I said, "How dare you put up a walking-tour trail in a gay neighborhood and take no notice?" They really, sincerely didn't know that there was a gay community around them on Eighth Street SE.
MW: Were they receptive?
MEINKE: They were very receptive and we've been working with them ever since. But there was this invisibility. The gay and lesbian community got by for half a century in this country by being good about covering its tracks, living under cover. Perhaps we're a victim of that success, because who knew that the Phase was there on Eighth Street? The Barracks Row people didn't know what it was. They didn't know that the gay Guild Press was the building that's now the Shakespeare Theatre prop-production place. They'd never heard of the Bachelor's Mill.
MW: How important is it for people to know their history?
MEINKE: It gives us a sense of who we are, where we come from, probably where we're going. Everything is history. You always have the past with you and the past is always in you. And we are a people with a past. We know that, but we also have to let the rest of the larger society, the world, the city here, know it too, so that people can't put up signs at Eighth Street SE that ignore the fact that there's a gay and lesbian presence there.
If you don't have a past, a publicly perceived past, you can be erased. That's what happens when you try to suppress or eradicate a group of people. You try to remove their past, their history, their sense of themselves. If you let that happen, it's your own damn fault.
The Rainbow History Project is online at www.rainbowhistory.org.