About two years ago, Allan Green, 67, knew something was wrong, something that needed to be checked.
"I simply knew there was something not right. There was a growth on my forehead, like a pimple," he explains. But unlike a pimple, he adds, this irregular patch was not going away. Next stop: Dr. Howard Brooks, his dermatologist.
"He immediately said, 'This is cancer."'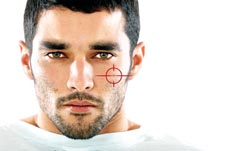 A biopsy would show that Green's cancer was squamous cell carcinoma, one of the more common types of skin cancer, along with basal cell carcinoma and melanoma — the latter being the most aggressive and easily fatal if not treated. Kaposi's sarcoma, while not generally common, is another type of skin cancer perhaps more familiar to the gay community, which learned of Kaposi's in the early days of AIDS as an opportunistic disease striking people with severely compromised immune systems, and which also attacks the mouth and lymph nodes.
Whatever the type, skin cancer is the most common cancer in the United States, with melanoma being the most dangerous.
Despite some scary complications — after surgery, Green faced a risk that the cancer would spread via a facial nerve — Green is in good shape today. All that remains of his cancer is a small scar on his forehead that goes unnoticed, and a new appreciation for sunscreen and beach umbrellas.
Conventional wisdom holds that Green's case is not at all out of the ordinary. He's blond, blue eyed and fair skinned. Add to that summers he spent as a youth getting sunburns while working on a farm in Oregon. All that would classify Green as high-risk.
But there are certainly exceptions, says Brooks.
"My first patient in private practice was an African-American woman with basal cell skin cancer. She was a native Washingtonian who went to the beach a lot. Like a lot of African Americans, she didn't think she had to be concerned with skin cancer. People of color are at much less risk, but I've seen it."
With May being Skin Cancer Awareness Month, Brooks is setting aside Saturday, May 10, to offer free skin-cancer screenings. But trying to catch cancer at its earliest stages is the easy part. The hard part, says Brooks, is changing the culture.
"In this community, you see nice tanned bodies, people going to Rehoboth to get a nice bronzed color. Everyone wants to get a tan."
His advice is to stay as un-tanned as you can.
"I don't think we're fighting a losing battle, but it is uphill. Just like cigarettes, it's the same thing with suntans. Patients think they should have a base tan so they won't get burned. But a tan is your body trying to protect itself. A tan is damage."
Dr. Howard Brooks will offer free skin-cancer screenings on Saturday, May 10, from 9 a.m. to 1 p.m. at his practice, SKIN: Cosmetic Dermatology of Georgetown, 2233 Wisconsin Ave. NW, No. 230. For an appointment, call 202-298-7546.