There's a point where you want to say, "Enough already!"
For the past several weeks Washington audiences have been running around the metro area seeing plays that all seem part of one festival or another. Doesn't anyone just put on a show anymore? Can't we just drop in our seat and wrap up our experience in a single night without having to employ the same grim determination that grants those few plucky individuals the ability to still follow the plot of Lost?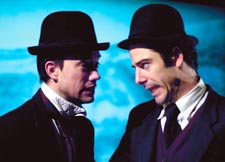 all wear bowlers
Yes that American stick-to-it spirit has taken us from the bottom of the sea to the moon. But do we really need another festival?
In this case, the answer is a resounding yes because it means the opportunity to experience the work of Trey Lyford and Geoff Sobelle's performance group rainpan 43. Don't let the lowercase letters or the phrase "performance group" keep you away for fear of spending an evening with two actors determined to prove how very smart and cutting edge they are. Lyford and Sobelle are, in the best sense of the word, clowns.
The publicity for all wear bowlers (yes, more lowercase lettering), the first show of rainpan's brief engagement at Studio Theatre, tells us that the comic piece about two silent film characters brought to life is inspired by the work of Samuel Beckett, René Magritte, and Laurel and Hardy. Heady stuff that.
ALL WEAR BOWLERS
To April 20
In rep with Amnesia Curiosa and machines, machines, machines
Studio Theatre
$34-$57
202-332-3300
www.studiotheatre.org
In reality, all wear bowlers more quickly calls to mind the delirious play of two rambunctious 7-year olds from the days before the medical community exuberantly embraced adolescent psycho-pharmacology. Of course, these are 7-year olds who apparently have a fascination with surrealism, advanced degrees in experimental film and a Cirque du Soleil-level grasp of physical performance and visual effects.
Fearless, energetic and apparently without anything approaching shame, Lyford and Sobelle aren't reinventing theater. They're simply reminding us how good it can be when you stop taking yourself so darn seriously.
And, apparently, when you stop using capital letters.