By the time she was only 11, Rachael Sage decided she wanted to be a singer-songwriter. Namely, a female Billy Joel.
"Why not? He was the life of the party. Anytime 'Piano Man' came on, everybody wanted to sing along to it," says Sage, the 34-year-old jazzy folk artist from New York, whose music is softer and sweeter than Joel's, her lyrics more poetic.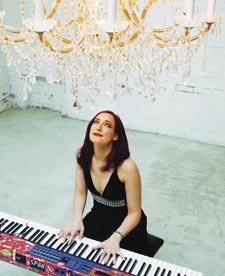 Rachel Sage
Sage released her first album in 1996, soon after graduating from Stanford University with a degree in drama. She ended up composing music for most of the plays in which she acted, a development she calls part of her "hidden agenda" for studying theater in the first place. Now, eight albums later, Sage is as prolific with her performance schedule as she is with recorded output, on the road more often than not.
"I'm really looking forward to it," says the festival and Pride circuit regular about her gig next Wednesday, June 4, as part of the Washington Jewish Music Festival. "Per my mother's enthusiastic encouragement, I pull out all of my Jewish-y music," she says. "It's not liturgical, but it's definitely revealing of my altogether not-unique, neurotic, Ashkenazi background."
Sage, who calls herself "a good old-fashioned entertainer," sings and plays her keyboard and Wurtlizer with support from a drummer and trumpet player — and sometimes a cellist.
"It's kind of a quirky configuration. It's kind of more of a circus than a band."
She sees herself as a visual artist making music, "painting portraits of the life that's happening around me." Her new album, Chandelier, is especially focused on the fragility of life, and the importance of appreciating it. One song, "Wishbone," was written specifically for a lesbian couple's commitment ceremony. "It was such an honor, hopefully it'll happen again," Sage says, adding with a laugh, "I'm available."
Rachael Sage will perform with Mara Levi as part of the Washington Jewish Musical Festival Wednesday, June 4, at 7:30 p.m., at DC9, 1940 Ninth St. NW. Cover is $15. For more info, see www.wjmf.org.
From YouTube: Rachel Sage, 'Wildflower'