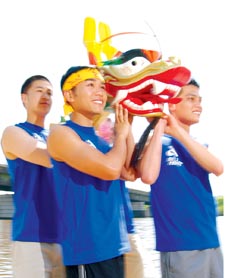 Out2Paddle
The 2008 Washington, D.C., Dragon Boat Festival, originally slated to take place May 17-18 at the Georgetown/Kennedy Center Waterfront, has been postponed to mid-June, due to recent flooding.
"The water from the torrential rains that hit our area last weekend is finding its way down to the Potomac, and the water levels are very high, and the current is very fast," organizers of the event explained on the group's official Web site, May 14. "Rowing crews are not currently launching from the docks at [Thompson Boat Center], and have instead packed up their boats and are rowing out of Anacostia."
The race is now tentatively scheduled for June 14-15, the same weekend as the Capital Pride Parade and Festival.
For more information visit www.dragonboatdc.com.