Iconic lesbian tennis champ Billie Jean King served the first ball for a new match in an unlikely location — downtown D.C., on the site of the former convention center.
Now a parking lot, the section of prime real estate at H and 11th Streets NW will soon become a temporary tennis stadium and home to Washington's new professional tennis team, the Washington Kastles.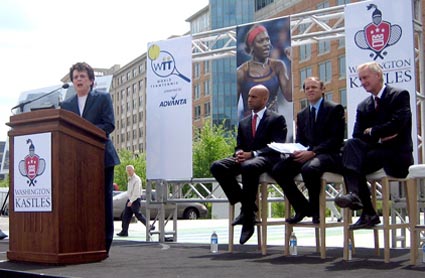 Billie Jean King (left)
The team is part of the World Team Tennis league, which was co-founded by King in 1974. Teams are comprised of both male and female professional players, and the Kastles roster features Serena Williams.
"Washington D.C. has been on our list at World Team Tennis for quite some time," King said at the on-site launch April 30.
"We are 33 years old, we'll have 11 cities playing in July," she said, adding that tennis will have a positive impact on the city's youth.
"When you come to a World Team Tennis match, at the end of the match, all the kids come onto the court, all the players stay and sign autographs…. We want to be in the fabric of our community all year long, not just during our season."
Joining King at the press conference were Mayor Adrian M. Fenty; D.C. Councilmember Jack Evans, in whose Ward 2 the court will sit; Mark Ein, founder and chief executive officer of local-based Venturehouse Group LLC and Kastle Systems International security firm, who owns the Washington Kastles; and Ilana Kloss, WTT chief executive officer and commissioner.
"Not only will you see great talent here on the Washington, D.C., team," Kloss said, "but you'll get an opportunity to have seven cities come in and play against Washington, and you'll get to see how much great, amazing talent there is in the sport of tennis."
King has been honored for her contributions to gay and lesbian equality by the Human Rights Campaign. In 2006, her contribution to sports was recognized when the United States Tennis Association re-named the National Tennis Center, site of the U.S. Open tennis tournament, in her honor.
Tickets are already on sale on Ticketmaster for the first home game of the Washington Kastles vs. the Boston Lobsters, scheduled for July 8, featuring Serena Williams with the Kastles.
Said Ein: "This is obviously a fantastic setting. We're going to turn this parking lot into a castle and we're going to defend it all summer long."
For more information visit www.washingtonkastles.com.