No matter that it's been 20 years since her last major pop hit, 17 years since her last album, and she's only had a few club hits since, everyone knows who Donna Summer is. Even twinks can sing along to "Bad Girls" or "Last Dance."
In 20 years, will a new crew of twinks be singing along to "Stamp Your Feet" or "The Queen Is Back?" "So many years ago, on the radio, she crept into your soul, and loved to love you, oh-oh," Summer sings, subtly referencing her biggest hits, on "The Queen Is Back." If it doesn't happen again, it won't be because the production is stale. For her comeback album, Crayons, Summer co-wrote every track, but she corralled a couple of today's hottest producers to help her.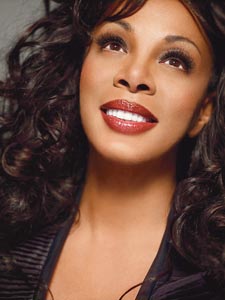 Donna Summer
As sharp as the production is here across the board, the lyrics and even some of the musical ideas themselves are strained, even embarrassing. Summer, 59, shouldn't sing about her "iPod," as she does on "Mr. Music" — it makes her come across as the grandmother she is, trying to sound cool to the kiddies.
But don't get the wrong idea: You can't dismiss Summer or her work here. Crayons (



) is better than you'd expect, and certainly sounds much fresher — hipper — than it needs to. The gospel-trained belter doesn't just sound like a discofied interloper in a hip-hop-influenced pop world: She actually does a fine job singing in an exaggerated swaggering style. She even takes to tossing off a few lines like a singing rapper — and surprisingly, she succeeds. "The Queen Is Back" is a cheerleader's fight song, featuring a chorus of multi-tracked singing Summers — and backing vocalist Mary Gaines Bernard, Summer's sister — who dare you to one-up them. And you just can't, with her voice as strong and supple — as glorious — as ever.
The title track is a bouncy ode about how everyone is a different color but it takes the whole box of crayons to make peace, or something similarly benign. With any luck, this could be a major pop hit for Summer, who takes to sing-rapping again and duets with a man who sounds like Akon, but no, it's actually the return of Ziggy Marley! On current single "Stamp Your Feet," Summer cutely spells out the first word of the title in a message not about dancing, as you might expect, but about squashing your fears. "I said, stamp your feet on the ground, make it really loud, make a big-ass sound, you ain't going down," Summer commands. Why deny her now?
Advertisement

| | | |
| --- | --- | --- |
| Donna Summer: Crayons | Bette Midler: Jackpot – The Best Bette | Sex and the City: Movie soundtrack |
Carrie Bradshaw is back too — and next week, women and gay men will be flocking to see the Sex and the City movie. But the soundtrack (




) will be released three days before — Tuesday, May 27, to be exact — and you might as well flock to it, too. The producers invited a notable group of almost-exclusively female singers to star on the compilation and the end result is an impressive soundtrack better than it needs to be. Yes, unfortunately, they did invite Fergie. Her "Labels or Love" chops up the show's theme song as the Black-Eyed Pea chops up your brain in that vocal style that some people strangely find cute. Must be brain dead.
But skip on to the second track, which comes courtesy of the movie's supporting actress herself, Jennifer Hudson. It's just the type of neo-soul gem you dream of from this Oscar-winning Dreamgirl. The soundtrack also features two stunningly re-imagined covers, The Bird & The Bee's tickling rework of The Bee-Gees' "How Deep is Your Love," and India-Arie's wounded cover of Don Henley's classic "The Heart of the Matter." And there's still more great new tunes from underappreciated artists, from Morningwood, The Weepies and Jem, whose sweet but gloomy and theatrical track, "It's Amazing," is cut from Pet Shop Boys' cloth.
In other words, high-quality pop, with major gay appeal.
From YouTube:
Donna Summer, 'Stamp Your Feet' (from American Idol 8 Finale)