"Got this endless itch to ride into the night." It might as well be Cyndi Lauper's unofficial motto. Lauper sings the line on her new single "Into the Nightlife," as the bass revs up behind her, preparing to launch into orbit the song's stratospheric chorus.
Nighttime is the "precious time when time is new," she sang on her early hit, "All Through the Night." Nighttime is the time to surprise a long-distance lover, she expressed several years later on "I Drove All Night." And, of course, nighttime is the time to escape the grind of a daily life spent, as Lauper puts it on another new track, "Give It Up."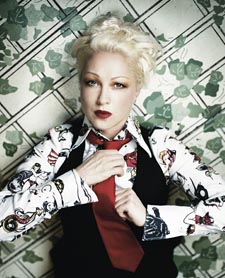 Cyndi Lauper
But Lauper doesn't crave the night simply to flee the day. She may still wanna have fun, a sentiment she immortalized 25 years ago, but she's not out for mindless escapism or simple hedonism. On Bring Ya To The Brink, the singer sets out to mix the sweet with the serious, lacing relatively innocuous sounds of club music with words and sentiments that sting as much as dealing with bad or difficult news does. She doesn't succeed as well as one would hope — stilted lyrics and bland music in particular get in her way at several turns. But she does display a keen sense about pop production in general and dance music in particular. This album, her 12th, is as energetic as her earlier sets, possibly even more so. It finds her branching out beyond what we've heard from her before.
Yet she sticks to the script that has helped shape her enormous appeal, especially to the gay and lesbian community: that of singing affirming lyrics. "Set Your Heart," for example, may not have the deep, sentimental complexity as "True Colors" or "Time After Time," but the bright and bouncy tune, which musically calls to mind the disco hit "Young Hearts Run Free," is every bit a message to the discouraged. "When your heart is beating black and blue, and a cold world's looking back at you," Lauper sings," "Go on turn around you'll see me, I will always be your friend."
Lauper's current club hit, "Same Ol' Story," is also an affirming anthem of sorts, though ultimately the song is most notable for mixing the sweet with the sour in the best proportion of any track here. Like "Set Your Heart," "Same Ol' Story" was produced by D.C.'s Rich Morel. His characteristically sweet, swinging melody is contrasted by Lauper's caustic lyrics, including her use of a profanity about half-hearted, superficial attempts at inclusion: "Well, it's the same old fucking story, one for me and two for you." She may be discontented, but she's not done. She's still beating to her own drum. "Still got my feet on tie to the beat," she sings in the refrain — though so faintly and through a not-uncommon garbled diction that can make deciphering her lyrics difficult, the effect makes you begin to wonder how serious her resolve is.
The album draws its name from "Lyfe," a tepid R&B-styled song musically out of sync on this high-energy album, and just unfortunate to hear anywhere else. When the album was first reported last year, its working title was Savoir Faire, a lyric from "Rocking Chair," a track even zanier than you'd expect from the always-wild British dance duo Basement Jaxx. In fact, it will likely take repeated listens before you warm to Lauper's baby talk and wails here. This is Lauper at her most unusual — and her willingness to experiment and expand beyond the tried and true is commendable. Who says a woman about to turn 55, as Lauper does this month, should be retiring?
CYNDI LAUPER
Bring Ya To The Brink
Epic Records
$18.97

Lauper experimented with other leading lights in dance music for Bring Ya To The Brink. She teamed with the New York-based Dutchman known as The Scumfrog on album opener "High and Mighty." Her jazzy vocalizations here add charm and warmth to what is an austere minimal track, almost a dance dirge. For "Grab A Hold," Lauper teamed with another British-based band, the Dragonettes, to create a New Wave-styled song about offering support to someone aspiring for something better. "You get your grip, I'll hold you up, just reach with your hand," Lauper sings, as the synths swell behind her. "And then use your imagination, make it what you have to make it."
"Into the Nightlife" was one of two tracks Lauper worked on with Swedish Peer Astrom, who has produced, among other tracks, Madonna's "Get Together." Maybe that explains why this sounds a bit like a leftover from Confessions on a Dance Floor. In any event, it should find some favor among gay clubbers in particular, given its closing lyric, "shirtless wonders wreck my sight, under the light."
Of course, it's best listened to at night.
From YouTube:
Advertisement

| | | |
| --- | --- | --- |
| Cyndi Lauper: Bring Ya to the Brink | Alanis Morisette: Flavors of Entanglement | Coldplay: Viva La Vida |