Anyone who works with a computer — in any capacity — really should have a Universal Serial Bus, or USB drive. They're used for transferring files, storing documents and sharing picture, music and video files. The bottom line: They're essential.
Raw Data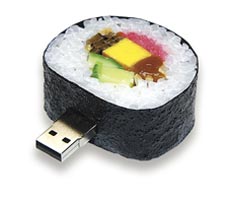 Futomaki sushi USB
As tempting as it may be, avoid sticking this realistically delicious-looking Futomaki sushi USB drive in your mouth. Instead, stick it in your computer's USB slot. It holds 1GB worth of material and costs $99. If Futomaki is not your flavor of choice, there are a handful of other sushi selections, all hand-made in Tokyo, starting at $79. Available at www.dynamism.com.
Nerd Alert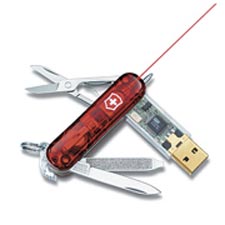 Swiss Memory USB
It's all the geek essentials rolled into one: USB flash drive, laser pointer, army knife, nail file, screwdriver, scissors and pen. Geek or not, it's one handy device, with memory capacities of 512MB to 2GB, from $69 to $99. For frequent fliers worried about security, the drive detaches and reattaches to the tools, which include a knife. Available at www.thinkgeek.com.
Safe Techs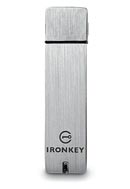 4GB IronKey
Depending on how you look at it, the 4GB IronKey can be classified as either the overprotective drama queen of USB drives, or the gadget-y private detective. That's because the IronKey holds a hardware encryption chip that scrambles your document. Ãœber hackers beware! After 10 failed password attempts, the encryption chip self-destructs and the drive fills itself with a chemical coating that hardens, protecting the drive. Yikes! From $78.99 to $299.99. Available at www.thinkgeek.com.