If you've not seen the ads yet, the next reality show inspired by a musical to warm your heart will be ABC's High School Musical: Get in the Picture. Unlike its predecessors — NBC's You're The One That I Want! and Legally Blonde, The Musical: The Search For Elle Woods — High School Musical is not actually rolling the casting couch onto the prime time stage. Instead, the show's winner will "get in the picture" by starring in a video to be shown during the credits of the next installment of the series. That's right. In a video shown during the credits of a movie. That's the prize.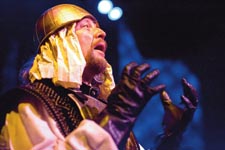 Because everyone always stays for the credits.
While there are very few stones the makers of reality television won't turn over in the name of a new series (giving teenage couples other people's babies to care for, for example) it was a bit surprising when the television gurus decided to try and make the casting of the next Danny Zuko and Sandra Dee an audience getter. And were it not for the gap in searching for the next Pussycat Doll it's hard to say if anyone would have ever tuned in to see what pretty young blonde was going to be Elle Woods. But those shaky starts at bringing the two art forms together — reality television and musical theater — does make one wonder what else might be in store for the future.
Picture Patti LuPone standing with a group of divas of a certain age on some windswept beach for the tearful and always dramatic "Mama Rose ceremony." Or the physical challenges involved as amateur roller derby athletes compete to be a part of Xanadu. Or, what about Man of La Mancha?
Let's face it. Sandra Dee only thought Frenchie was a hard case because she'd never spent any time with the bitter prostitute Aldonza. Elle Woods looks like a complete downer if you compare her with that ultimate optimistic dreamer and windmill chaser, Don Quixote. The trick with appreciating Man of La Mancha is getting beyond the Frank Sinatra rendition of "The Impossible Dream" that invariably starts playing in the back of your head. (No offense to the Chairman of the Board intended.)
For the next few weeks, the folks from The Keegan Theatre will be tilting at windmills over at Church Street Theater. A lovely production with some genuinely outstanding performances, this might well be your best chance of getting beyond the legacy of Old Blue Eyes and experiencing what an innovative show Man of La Mancha is.
What some who have not seen the play before don't realize is that Man of La Mancha is actually a show within a show. Imprisoned for offenses against the Catholic Church, Miguel de Cervantes is made to defend himself in a trial held by his fellow prisoners. These people are all victims of the Spanish Inquisition who have no hope of seeing the outside world again. The trials are a means of finding some distraction and entertainment.
To present his case Cervantes and his servant elect to perform — with the help of the other prisoners — the story of the delusional knight Don Quixote de la Mancha.
The Keegan Theatre's production is cleverly designed with a "kids playing make believe" attitude. The work done by designers George Lucas (sets), Kelly Peacock (costumes), and Carol Baker (set dresser) manages to acknowledge the humor of La Mancha without sacrificing the polish needed to carry the musical's weightier bits. A pair of helmets outfitted with Picasso-like wire renderings of a horse and a mule head transforms a pair of actors into beasts of burden. A single hinged grate transforms from cell to well to confessional booth without effort.
MAN OF LA MANCHA
To Aug. 16
Church Street Theater
1742 Church St. NW
$30-$35
703-892-0202 ext.2
www.keegantheatre.com
It's all put to good use by the cast director Mark A. Rhea has assembled. Most notable in an all around solid group is Michael Innocenti as Cervante's servant/Sancho Panza. An actor with a strong sense of comic timing and an almost casual presence on the stage, Innocenti gives his character a touching humanity. Carolyn Agan's Aldonza/Dulcinea will grow on you as her character becomes fuller and more complex throughout the course of the show. While she occasionally struggles with settling into some of her songs, Agan's voice is clean and forceful. Her reprise of Dulcinea has the ability to bring tears to your eyes.
David Jourdan makes some strong choices in his portrayal of Cervantes/Quixote, but, perhaps most impressive, Jourdan is an actor who shows some respect for the range of his instrument. He holds his voice well within its own boundaries and, as a result, brings something altogether unique and richly textured to the stage. His is the work of an intelligent actor.
Keegan Theatre's Man of La Mancha manages to feel both familiar and refreshing. It might not be the makings of the next great reality show, but it reminds us how much more fun it is to ditch reality in favor of a few giants and an overactive imagination.