There's no doubting Eddie Sarfaty is a funny man. Maybe you've heard his unique style of connecting the dots that, for example, begins with gays in the military, detours to prostate health, and ends with morale-boosting parades. He's also fond of pulling from his family life, like the confusion that came from bringing a boyfriend home for the first time: "My father and my boyfriend had the same name — Daddy." Some locals may have even taken advantage of Sarfaty's local teaching gig with D.C.'s Theatre Lab, where he reveals the ins and outs of stand-up comedy.
"There are people who, after the first class or two, don't come back," says the comic, who's appearing Friday, July 25, at Signature Theatre's Sizzling Summer Nights Concert Series. "It's a terrifying thing to people. People don't realize how hard it's going to be."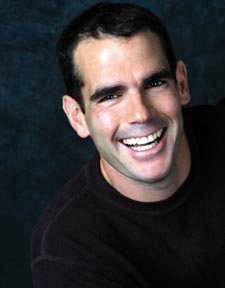 Eddie Sarfaty
He feels their pain.
"There are times when I do get really nervous. If there are people I know in the audience seeing me for the first time — someone I'm dating, a relative — that's the most stressful."
But while Sarfaty, a New York native, has conquered the bulk of his own performance fears, recent attempts to put pen to paper — or fingers to keyboard — have been daunting. He hopes an extended stay in Washington will help.
"I've been working on my first book. It's called Mental: Funny in the Head. I'm actually staying in Washington till the end of the month, mostly to work on the book. I'm a little behind. I hope someday to have a work ethic.
"I struggle with not having a normal schedule. I don't have to be anywhere at 9 a.m. There's no project manager overseeing me. That's hard. I work for 10 minutes, and then I have to play with the cat. Or raid the refrigerator. Or mop the floor."
And don't worry about who takes care of the cat during Sarfaty's D.C. visit — if her name's any indication, she's well pampered.
"She's Anne, named after Anne of Cleves, the fourth wife of Henry the VIII. Could that be any gayer?"
Eddie Sarfaty performs Friday, July 25, at 9:30 p.m. at Signature Theatre's ARK Theatre, 4200 Campbell Ave., Arlington. Tickets are $15. Call 703-820-9771 or visit www.ticketmaster.com. Sarfaty is online at www.keeplaughing.com.