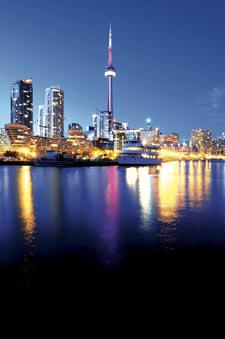 Bruce Bell loves Toronto. Gay historian and self-described tour guide extraordinaire, Bell can talk endlessly about his city's rich diversity, stunning architecture and eclectic neighborhoods.
Toronto is Canada's largest city, with 5 million residents in the city and surrounding suburbs – ranking it fifth among top metropolitan areas in North America – and home to a vibrant gay community. And importantly, Canada is one of only a few countries in the world that has near equality for its gay citizens, including same-sex marriage.
It doesn't take long for a visitor to understand Bell's passion and appreciation for all that Toronto has to offer.
The heart of Toronto's GLBT community is the Church Wellesley Gay Village (www.churchwellesleyvillage.ca), or simply the Village. It is a section of the city in the downtown core, roughly bounded by Gould Street to the south, Yonge Street to the west, Charles Street to the north, and Jarvis Street to the east, with the intersection of Church and Wellesley Streets in the center.
The Village is packed with cafés, restaurants, gay-oriented shops, boutiques, a gay community center and an abundance of bars and hot nightspots. It is also the setting for some of the best gay events in the world, including Canada's largest GLBT-pride event, held the last week of June, and a Halloween celebration billed as "Halloweek," a spooky street fair that draws thousands of costumed revelers.
Stay
The Delta Chelsea Hotel (www.deltachelsea.com) provides the perfect blend of comfort, convenience and cost. Located just a few blocks from the Village, the hotel offers nearly 1,600 rooms, including newly renovated, adult-only Signature Club rooms that offer more than 300 square feet of stylish space.
For those travelers who want a more intimate property, the gay-owned Gloucester Square Inns (www.gloucestersquare.com) is an ideal choice. Consisting of three restored, historic homes, the Inns are a pleasant blend of modern amenities, such as wireless Internet service throughout the property and turn-of-the-century architecture and features.
Eat
Tucked among the many stalls in Toronto's famed St. Lawrence Market (www.stlawrencemarket.com) is Carousel Bakery, where one can have the simplest and most delicious dining experience: a peameal-bacon sandwich. It's the perfect midday treat while exploring the surrounding downtown neighborhood. With a very large Asian population (more than 10 percent of the city's population is Chinese), it's no surprise that the city is full of excellent Asian-dining options.
Situated right on Spadina Avenue in the center of Toronto's main Chinatown, Bright Pearl Seafood (www.brightpearlseafood.com) offers some exciting and exotic cuisine including an all-day, dim sum menu.
Mengrai Gourmet Thai (www.mengraithai.com) delivers on its name. It is consistently named among the city's top restaurants and often cited as having some of the best Thai outside of Thailand. Accolades aside, the pineapple fried rice with tiger shrimp and chicken is outstanding.
Do
For an amazing experience, stand on the glass floor of the CN Tower (www.cntower.ca) and look 1,122 feet straight down, or look out one of the many observation windows and see — on a clear day — 100 miles in all directions. The tower is among the tallest buildings in the world.
Toronto also has an eclectic range of museums with the Royal Ontario Museum (www.rom.on.ca) satisfying one's search for culture, and the Bata Shoe Museum (www.batashoemuseum.ca) providing curiosity value as well as an interesting take on history, as revealed by shoes from around the world.
The city is also home to dozens of amazing festivals held throughout the year, including the Chinese Lantern Festival (www.chineselanternfestival.ca), the largest festival of its kind outside China; and the Toronto International Film Festival (www.tiffg.ca), which rivals Cannes.
Play
Toronto's gay nightlife was made famous by the American television series Queer as Folk, which was set in Pittsburgh but actually shot in Toronto. Woody's (www.woodystoronto.com), the main hangout in the show, is actually the name of one of Toronto's main gay bars, which is a large, maze-like complex with five bars and undeniably hot bartenders.
Other popular spots include Pegasus (www.pegasusonchurch.com), a casual bar with pool tables and large video screen; Black Eagle (www.blackeagletoronto.com), which draws the leather and Levi crowd; and Zelda's (www.zeldas.ca), a combination bar and restaurant featuring a very popular outdoor patio. For a great dance experience, Fly (www.flynightclub.com) offers 10,000 square feet of pure vibe and plays host to some of the best DJs on the circuit.
For more information about Toronto's gay-friendly offerings, visit www.torontotourism.com/Inspiration/PrideHome.htm.