My experience with the Mitsubishi Lancer goes way back. That is, if you're counting hours logged playing Gran Turismo on the PlayStation, where tricked out Lancers have been my racing ride of choice from the mid-90s to the present.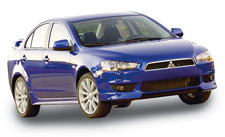 Mitsubishi Lancer GTS
My fondness for the digitized car carried over into real life, where the economically priced sedan takes its place alongside such other tuner favorites as the Subaru WRX, generally replete with giant rear-deck spoilers and high-decibel exhaust pipes.
The recently redesigned Lancer GTS shares the sharp-edged good looks of its boy racer brethren, though it lacks the oomph of its bigger and pricier sibling, the Lancer Evolution. But with an under-$20K base price, the GTS provides the benefits of a practical sedan without the overly sedate stylings that weigh down other mid-sized four-doors (Hello, Accord!).
The Lancer's bodywork hints at up-market pretensions, with an aggressively forward-slanted snout and a back end that cribs a bit from the Lexus IS series. It's a sleek and attention grabbing style for those who prefer their sedans to blend in a little less.
Mitsubishi Lancer GTS
MSRP: $17,990 MSRP; $20,665 as tested
Gas mileage: 21 city/28 highway
Highlights: Sharp exterior styling makes the Lancer look more expensive than it is.
Lowlights: Tepid interior styling reflects the bargain the Lancer is.
While the GTS can be tricked out with a number of options — from Bluetooth capability to a high-end sound system — and still just crack $20K on the sticker, the interior reflects the bargain being gained. Where the exterior is sharp and eye-catching, the Lancer's dash is a bland expanse of hard plastic.
You won't set any land-speed records in the GTS, but the four-cylinder engine gets the job done with a fair amount of fun, especially with the 5-speed manual transmission. Tight handling, along with a respectable 21 city/28 highway mpg rating, make for an enjoyable daily driver.
Just leave the racing to the videogames.