Whether it's a grand holiday party or a just a casual kick-back at home, there are so many ways to spice up the libations, to go from mundane to marvelous. After all, everything goes down better when it's well-packaged.
Shake It!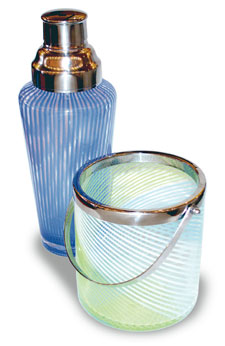 Cocktail shaker and ice bucket
A little retro-cool, it's no shocker that this beautiful combination can be found locally at Go Mama Go! The glass cocktail shaker and ice bucket, designed by Wild Eye Design, are available in blue or green. If you really want to shake things up, feel free to mix and match colors, as shaker and bucket are sold separately. Each is $31 at Go Mama Go! 1809 14th St. NW, 202-299-0850, www.gomamago.com.
Potable Peepshow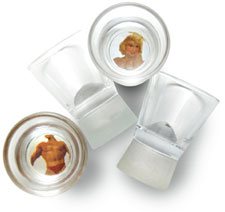 Peepshow shot glasses
Fill up one of these Peepshow shot glasses and watch a sexy pinup — beefcake or cheesecake, it's your call — appear right before your eyes. While there's some refraction-science to explain the trick, we prefer to think of it as magic. Mister or Miss Sexy disappears once you gulp down the shot, so why not another round? A set of four costs $22.50 at Homebody, 715 Eighth St. SE, 202-544-8445, www.homebodydc.com.
Stone Cold — Not Sober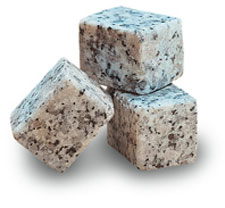 Granite Ice
Perfect for slow sippers, this "Granite Ice" set keeps your drinks cold without diluting them. A set of 10 smooth-edged Granite Ice cubes comes with a wooden tray to keep in your freezer, a home for your rocks to chill when not in use. Not only won't they melt, they're hygienic and reusable. Granite Ice is imported from Australia via www.graniteice.com, for $24.95AUS plus shipping and handling.