To and from all nearby points, we Washingtonians commute. Some make their daily roundtrips on rails, some on tires, some on foot. In the midst of all that frantic transportation, it may be easy to forget that many of these nearby spots are worth a visit entirely apart from our toil.
Richmond might be on a D.C. lobbyist's radar ahead of some particular legislative vote in the commonwealth. Baltimore used to be the place catch a baseball game; it's still a place many Washington workers lay their heads at night. Those towns, and quite a few just like them, also make for great escapes. And leaving the car behind makes it that much more of a vacation.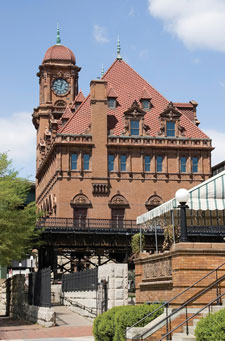 Richmond, VA train station
From Washington's grand Union Station — a destination in and of itself — the trick is finding a train that can take you far enough away to feel you've actually made a romantic journey by rail, but not so far that you'd need to spend the night onboard or partake of Amtrak catering beyond a cup of coffee. New York comes immediately to mind, but with a bevy of not-too-shabby bus lines making the same run in roughly the same time for a fraction of what Amtrak's charging, the Big Apple is a big pass in this particular scenario. The aforementioned Richmond and Baltimore, however, are ripe for the plucking.
At about two hours and 40 minutes by train, it's certainly faster to drive to Richmond. But why are you in such a rush? Besides, you don't want to forego arriving at Richmond's gorgeous Main Street Station, a National Historic Landmark in French Renaissance style. A short cab ride from the station, the Commonwealth Park Suites, 901 Bank St., provides oversized rooms and a view of the Capitol. A few blocks away, you can get groovy at Godfrey's and Barcode, both on East Grace Street. And while Richmond is bursting with fantastic restaurants, an absolute must while visiting the pleasantly walk-able capital of the doomed Confederacy is brunch at Millie's Diner, 2603 E. Main St. If you don't want to wait, Godfrey's accepts reservations for drag brunch. Leave work early on Friday for the 2:30 p.m. Northeast Regional train, and your scheduled Richmond arrival is 5:12 p.m. If you just can't sneak away, the 5:30 p.m. departure arrives at 8:37 p.m. Head home on Sunday at 5:30 p.m., returning to Union Station at 8:37 p.m. A roundtrip, coach seat costs about $70 to $80.
Remaining in Virginia, Charlottesville and Staunton are good bets. Both offer quaint train stations close to what action there is. Amtrak's Cardinal line departs D.C. at 11:10 a.m. on Fridays, arriving first in Charlottesville at 1:55 p.m., then Staunton at 2:57 p.m. The Crescent line also provides service to Charlottesville, departing D.C. at 6:30 p.m. and arriving in Charlottesville at 8:52 p.m.
It's really a question of just how quiet a weekend you want. The Omni Charlottesville Hotel, 235 West Main St., sits adjacent the downtown pedestrian mall — where you'll be spending much of your time with no car. Quieter still is Staunton, where two gay-owned B&Bs greet travelers: the Shenandoah B&B, 402 East Beverly St., and the Belle Grae Inn, 515 West Frederick St. Both sit near the station and Staunton's historic downtown.
The Sunday Cardinal back to Washington departs Staunton at 1:31 p.m and Charlottesville at 2:47 p.m., arriving at Union Station at 5:55 p.m.
Looking north, Philadelphia is an obvious choice. With multiple trains in each direction daily, getting to Philly is a breeze. The high-speed Acela will shave half an hour off the two-hour trip, but you'll pay for that speed. Roundtrips can cost about $150 to $280, depending on which trains you use. But once you've arrived, settle into the Alexander Inn, at 12th and Spruce Streets, in Philadelphia's gay neighborhood and start exploring on foot.
For Philadelphia-lite, Baltimore is about as convenient as leaving D.C. can get. If you want to sample the Acela, this is your chance. Head out Friday evening on the Maryland Area Regional Commuter (MARC) for $7. The trip from D.C. to Baltimore's Penn Station will take about an hour, but you'll save a bundle compared to $24 on Amtrak. Use the savings to return by Acela for about $50. The Baltimore station is near the city's Mount Vernon neighborhood, where you'll want to center yourself for access to galleries and gay nightlife. Head through downtown for the Inner Harbor or Fells Point.
Like Virginia, Maryland also offers tranquility by train. All aboard for Cumberland. Here, too, you'll find a picturesque historic district. Leave D.C. at 4:05 p.m Friday on the Capitol Limited, and you should be in cute Cumberland by 7:14 p.m. — just in time for dinner at the Manhattan Bar & Grill, 69 Baltimore St., a northern outpost from the guys behind Capitol Hill's Banana Café and Starfish Café. The Inn at Walnut Bottom, 120 Greene St., bills itself as gay-friendly. Sunday's return trip departs at 9:51 a.m., arriving in D.C. at 1:30 p.m. And the roundtrip ticket is a bargain at $44.
For a weekend away, get onboard and go. Your car won't miss you.