METRO WEEKLY: From your — or your organization's — perspective, what is the most immediate effect of the presidential election on the LGBT community?
REA CAREY: The most immediate effect is that for the first time in eight years there is a possibility for the enactment of pro-LGBT policies. It is now possible for us to move forward without fear of immediate veto threat or administrative ideology obstructing our efforts. We have an opportunity to see our work result in real change and tangible improvement in the lives of lesbian, gay, bisexual and transgender people in America.
MW: Since the 1990s, a small number of LGBT issues have consistently emerged at federal legislative level: gays in the military, the Employment Non-Discrimination Act, partner immigration, hate crimes and marriage equality. With a Democratic congress and president, which of those issues do you believe should be prioritized?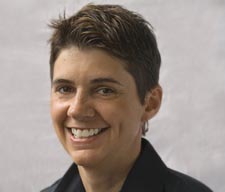 Rea Carey [file photo]
The Task Force Action Fund has a number of legislative priorities, including expanding and strengthening existing federal hate crimes law and the repeal of "Don't Ask, Don't Tell" (DADT) and the Defense of Marriage Act (DOMA), but our top legislative priority will continue to be passage of an inclusive Employment Non-Discrimination Act. Leadership will likely move other legislation first, such as the hate crimes bill, and we look forward to working with them on those efforts as well. However, a key focus of our energy and expertise will be on creating federal employment protections based on sexual orientation and gender identity.
We know the votes are there for a hate crimes bill because Congress has repeatedly voted in its support. The only thing missing during the last eight years was a president who would sign the bill. That is why it is likely it will move before other legislation.
MW: Will Congress be able to pass a trans-inclusive ENDA?
CAREY: We believe that with the existing support for the bill built in past years, additional changes that have occurred in Congress, the support of the administration and the continued efforts by the Task Force Action Fund and others on Capitol Hill and at the grassroots, it is possible to pass a fully inclusive ENDA.
MW: Protections for and recognition of LGBT federal employees have often been attacked under the Bush administration. How do you believe the landscape will change for LGBT federal workers under the new administration? Will Obama's pledge to extend domestic partner benefits come through?
CAREY: We believe LGBT federal workers will be better off under an Obama administration. Even in the administration's transition project, they have stated a commitment to nondiscrimination based on sexual orientation or gender identity — a signal of respect for the dignity of LGBT individuals. We have no reason to doubt President-elect Obama's commitment to extending domestic partner benefits and we look forward to working with his administration to move forward on this important coverage.
MW: The Bush administration has been lauded for its work in Africa on HIV/AIDS. How do you think an Obama administration will influence HIV/AIDS policy in the U.S.?
CAREY: We hope to work with the administration on a number of HIV/AIDS issues including, but not limited to, implementation of a national AIDS strategy and a greater focus on people of color, gay, bisexual and transgender people. We'll also advocate for more funding for domestic HIV prevention and a complete elimination of funding for abstinence-only education, which has been proved to be ineffective.
MW: What does the loss on same-sex marriage in California — as well as Arizona and Florida — plus the barring of adoption rights in Arkansas say about the state of GLBT issues in America?
CAREY: With so many other bright spots and celebrations coming out of this election – especially the history-changing election of President-elect Barack Obama, which promises to be the most LGBT-friendly administration ever – it is particularly painful to have these ballot measure losses in Florida, Arizona, Arkansas, and the anti-LGBT measure in Hamtramck, Mich. The anger of many in our community is intense and palpable but somehow we will all need to dig deep and channel our anger and sadness into fulfilling the promise of marriage equality across the country. Despite this setback in California, we have seen an unprecedented positive shift in public attitudes toward the freedom to marry in California – from 38 percent in our favor during the 2000 vote to 48 percent this election. In the other ballot measures, shifts public opinion is steadily moving in our favor, and in time, with continued work and renewed investment, fairness and equality will ultimately prevail. We will get there.
MW: A number of rationales have emerged for the California loss — minority voters supporting both Obama and Prop. 8, low turnout in some areas such as San Francisco, "No on 8" messages that avoided being too "gay," etc. — what do you think needs to be addressed among those in order to move forward in that state?
The close vote was heartbreaking. In the end, the scare tactics and lies of the other side won out this time. We need to look at all the circumstances that led to the resulting loss. It will take time and careful analysis to understand all the variables that led to this outcome. That careful analysis has to happen so that rather than pointing fingers at any specific group or groups we can focus our energies on the development of winning strategies in the future. This unjust and disappointing outcome for tens of thousands of loving, committed couples and their families will now have to wait longer to be treated fairly under the law.