There is no glee quite like the glee of children opening gifts at the holidays. Or so we've been told. Plenty of gay folks have kids these days, and we've all been children at one point. Still, kids can be somewhat alien — and definitely greedy this time of year. Spree helps you meet their needs head-on.
Buying for Baby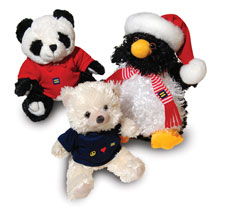 HRC stuffed animals
Don't drink? Don't smoke? What do you do? If you're too young for any of the 3-plus sets' vices, do what comes naturally and squeeze plush-ness. Don't let the baby in your life spend another drab second without one of HRC's super stuffed animals. Choose from Merry Mary the penguin, $12.95, Equality Panda, $15, or Fuzzy Bear, $12, and let the subversive, lifestyle-recruiting begin. Available at the Human Rights Campaign Action Center & Store, 1633 Connecticut Ave. NW, 202-232-8621.
Old-Age Investment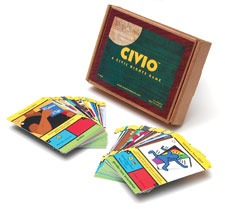 Civio
By the time they hit the double digits, you've got a pretty good idea who's naughty, who's nice, and who's a good candidate for law school — and, if you're any blood relation at all, might help support you in your dotage. It's that last kid who is the perfect candidate for "CIVIO, A Civil Rights Game." Played much like gin, CIVIO is a game that teaches kids (and adults, ahem…) about Supreme Court civil-rights cases, including the gay ones. A bonus is that you can quite literally play the "Race" card. Available at Reach and Teach online, www.reachandteach.com, for $14.95.
Perfect-Age Play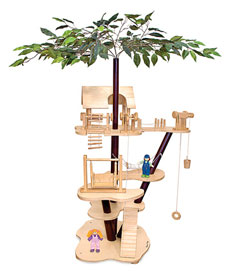 Doug's Treehouse playset
Those kids who are too old for diapers and too young for Twilight are the perfect age to buy for: young enough to love toys, old enough to use imagination. For them, we recommend Melissa & Doug's Treehouse Play Set — because it is so cool. It's almost four-feet high, and it has retractable stairs, pulleys and a trap door. The best part is that while one of the two included figures is pretty femme, the other, whom we've named Pip, is anybody's guess. Available for $129.99 at Groovyland Toys & Treats, 425 Eighth St. SE, 202-544-7474.