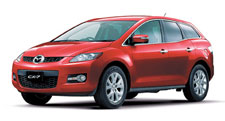 2008 Mazda CX-7 Grand Touring
Mazda has been all about the "zoom zoom" in recent years and, for the most part, has backed it up with some nicely styled – and more importantly, nicely tuned – cars that turn heads as well as corners.
Introduced in 2007, Mazda's CX-7 was one of the more appealing of the still-growing "crossover" class: vehicles that aim to combine the best aspects of sedans and SUVs into a more reasonably sized package.
Given the recent turn against SUVs and gas guzzlers in general – though with gas prices falling once again, where the next turn may be is unclear – crossovers gained some additional appeal because they offered many of the interior space benefits of the larger, truck-based SUVs without the insatiable thirst at the pump.
While you wouldn't describe the CX-7's interior as cavernous, it's certainly roomy, and easily fits five adults. The contrasting black-and-tan trim on the higher end Grand Touring version makes for a particularly pleasing touch, adding a racy feel to a car that aims for the "zoom."
And as a driving experience, the CX-7 aims well. It handles tightly and, while not as nimble as smaller and lower-slung cars, it's not difficult to maneuver through the challenges of daily driving: traffic, parking lots and more traffic. That's a contrast to its larger sibling, the CX-9, which shares much of the styling but is a bit more ungainly.
2008 Mazda CX-7 Grand Touring
MSRP: $28,400 based; $34,375 as tested
Gas mileage: 16 city/22 highway
Highlights: Nifty crossover styling and well-appointed interior make the CX-7 an entertaining drive.
Lowlights: Gas mileage numbers aren't the worst – but they're far from best, even for all-wheel drive
One thing that's similar between the CX-7 and the CX-9 is the gas mileage: at 16 city and 22 highway, the CX-7 with all-wheel drive only outperfomrs the larger model by one mile per gallon. You can opt for the front-wheel drive instead to squeeze out a 17/22 mpg rating, if the four-wheel option isn't a dealbreaker for you.
But with prices starting at $28,000, the math may work in your favor – it's your call how much "zoom zoom" your wallet will spare.