GRAMMY GIRLS (AND RUFUS)… Did you hear- Kathy Griffin did, in fact, get her Grammy nomination. You know, the one she was angling for. The one for which she specifically created last year's For Your Consideration. Ain't that cool- She's up against Lewis Black, Flight of the Conchords, Harry Shearer and the late George Carlin for Best Comedy Album.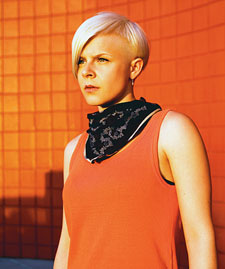 Robyn
(Photo by Samantha Rapp)
Did you also hear about Rufus Wainwright– His Rufus Does Judy at Carnegie Hall will battle albums by Natalie Cole and Barry Manilow for Best Traditional Pop Vocal Album. And how about Madonna– Madonna earned a total of three nods — though Hard Candy didn't get nominated for Best Electronic/Dance Album. I repeat, Hard Candy did not get nominated as Best Dance Album, the category Madge won in 2007 for Confessions on a Dance Floor. So instead, let's all root for the opening act from select European dates of her Sticky and Sweet Tour — and here's hoping Robyn beats out Cyndi Lauper, Kylie Minogue, Daft Punk, Moby and Brazilian Girls for the Best Dance Album Grammy. Tall order, for sure. But Robyn is ballsy enough to take on all comers, and Robyn is far and away better than all those artists' albums — it's one of the very best albums released the past couple years, bar none.
The album nod was the only one for Robyn, alas. Madonna got two in the three dance categories, the first courtesy of Junkie XL's remix of "4 Minutes." That will battle for Best Remixed Recording against StoneBridge's "Closer" by Ne-Yo, Justice's "Electric Feel" by MGMT, Deadmau5's "The Longest Road" by Morgan Page feat. Lissie and – are you ready- – Moto Blanco's "Just Fine" by Mary J. Blige. Yep, it's a newer crew of remixers this year. Meanwhile, Madonna's "Give It 2 Me" will duke it out with Rihanna's "Disturbia" for Best Dance Recording. That's a battle right there, but then there are the other contenders: Daft Punk's "Harder Better Faster Stronger," Lady Gaga's "Just Dance," Hot Chip's "Ready for the Floor" and Sam Sparro's "Black & Gold." Sparro- Black- I've never heard of that one, either. Oh well….
WHAT ELSE IS THERE-… Robyn is set to record a new album this Spring, and hopefully we won't have to wait years to hear it – even one is too long. At least in a couple months we will hear new music from the 29-year-old, born Robin Miriam Carlsson. The sassy Swede will appear on the underrated Norwegian duo Royksopp's next album. Astralwerks offers the U.S. release of Junior on March 24. It's the electronica duo's first new set in over three years, and it sounds as creatively pop-tastic as the last, The Understanding, which featured the moody dance singles "Only This Moment" and "What Else Is There-" – the latter of which featured Karin Dreijer, of the Swedish electronic duo The Knife, and was remixed as a bombastic and brilliant dance floor burner by the great dance Dane Trentemoller. Besides Robyn, Billboard reports that Junior will also feature fellow Scandanavians Lykke Li – who sounds just like Robyn's indie-rock twin – and Anneli Drecker. And Dreijer will return as well. "Happy Up Here" is the set's lead single, due in early March….
SWEET DREAMS… Annie Lennox was originally scheduled to release a recording retrospective last September, but the set was postponed on account of her need for emergency spinal surgery to release an impinged nerve. Now, she's apparently fully recovered from the surgery, and ready to reveal The Annie Lennox Collection. Arista Records, her longtime label home that effectively dropped her at the turn of last year, will release the set Feb. 10. It includes all her post-Eurythmics solo hits, including "Why," "Walking on Broken Glass," "No More 'I Love You's"' and "Pavement Cracks." It will also include two new songs, Lennox's interpretations of songs originally performed by the bands Keane and Ash. It will likely be the last major release from the sterling singer, whose passion these days is more as an international AIDS activist. But ah, what a legacy of precious, beautiful music….
I WANT YOU BACK… Lance Bass may be a gay dancing television star these days, but does he still have the music in him- Well, we may find out. The budding television producer told Billboard that he's going to fiddle around in the studio to see if he can't come up with something original. He told the magazine that any solo output would lean toward Aerosmith-style rock. Didn't see that coming, did you- But beyond that, Bass also said he's hopeful an 'N Sync reunion may be in the offing. It's been nearly seven years since we last heard from the boy band, a period in which Bass came out and Justin Timberlake's solo career blew up. Considering that Timberlake is the only bona fide pop superstar in the bunch — and on track to release yet another new album this year — it's hard to imagine he'd need or want his former pop-eteers, And then there's the matter of how they'd sound a decade later. "I have no clue," Bass told Billboard, though he guessed it would take "more of a hip-hop vibe," and they'd work "with a lot more urban producers." But that's Timberlake's bag. So, again, why does Timberlake need all them-….