Montreal-based musicians Jean-Phi Goncalves and Betty Bonifassi each had their own careers going before they teamed up to experiment as Beast. Among other things, Goncalves was the drummer in the electro band Plaster, which had collaborated with Lauryn Hill. And Bonifassi had sung the Oscar-nominated theme song to Les Triplettes de Belleville.
But once they got together, there was no denying they were on to something. Merging hip hop with rock, jazz with electronica, the two literally created a Beast that sounds like a little bit of artists you probably love, from Moby to M.I.A., Depeche Mode to Portishead, Nina Simone to Neneh Cherry. Taken altogether, the experimental electronica duo sounds like little else you've ever heard before. And a lot of what you want to hear more of.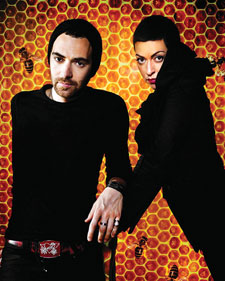 Beast
Whether you will is a separate issue. Available on iTunes for a couple months now, Beast was officially released in the U.S. a few weeks ago, though it's still difficult to find much information about it beyond iTunes and its own websites, including a page on storied jazz-focused label Verve, now part of the Universal Music family. You'd expect, and certainly wish, for more promotional push on the label's part.
That's especially true because of what Beast has done here, having made an audaciously original self-titled debut. Its only flaws are the fact that it's a bit too uniform in menacing feeling. And Bonifassi, a French native, performs in heavily accented English that gets the best of her regularly here, making it difficult to decipher her lyrics.
But a couple flaws are nothing to dwell on with a stunningly sharp album such as this. They spent two years working on the album, and it shows. This is a well-tended affair, with an overriding sound of cinematic melancholy – a film noir soundtrack, if ever there was one. And an overriding theme of power and powerlessness.
The set begins with an angry hip-hop song called "Devil" and ends with a rousing spiritual called "Satan." Evil also pervades the riveting, swampy first single "Mr. Hurricane." "One day I saw a beast coming, from across the sea," Bonifassi raps – you'd never know that until this project she was strictly a singer. "I never knew fear, until he came for me." The choir sings in the chorus of giving into the forces that be. And Bonifassi responds affirmatively. "Let it go, let it go," she instructs. As she goes on, it's clear she's no longer fearful. "I love the beast ya'll."
BEAST
Beast
Verve Forecast
$7.99
On iTunes

Halfway through the set comes the song "Out of Control." "We are getting out of control," Bonifassi, sings, in full, fantastic voice, as the choir sings a dreamy wordless refrain. The song spirals, and Bonifassi becomes fantastically unhinged in the manner of Nina Simone.
"The City" could be viewed as commentary on our current global crises, and what got us there. The song features blunt-force beats, crackling guitar chords, vinyl record scratches and a choir straight out of a horror-flick. "Oh, oh, oh," they sing as Bonifassi raps about the need to flee: "In a city called heaven, I decided to make it mine." The song actually sounds like heaven toward the end, when the horror disappears for a minute and the choir coos sweetly in praise. But then the preacher-man gets carried away, raising his voice about wanting, demanding more than what's needed of everything. The sweet dream ends and the nightmare returns.
Even at its scariest, Beast is a creature worth getting to know.
---
If Beast reminds you of M.I.A. or Neneh Cherry – or a little bit of a lot that came before – the Brooklyn-based Plushgun will remind you a lot of the Pet Shop Boys, or the Postal Service. It's less whiny, and less fey, than Neil Tennant and Chris Lowe's outfit, and warmer than the electronic offshoot of Death Cab for Cutie's Ben Gibbard with Jimmy Tamborello.
PLUSHGUN
Pins and Panzers
Tommy Boy Records
$13.98

Don't let the weapon in its name fool you, in other words – the sound is as soft and lush as a synth-pop lover's dream. Daniel Ingala started this ebullient electronics project as a one-man MySpace act, but now he's enlisted guitarist Taylor Armstrong and drummer Matt Bogdanow to make the band a recording and touring trio. Its new debut album Pins and Panzers is a sweet, sentimental romp through the minefields of adolescent emotion. On "A Crush To Pass The Time," Ingala sings of an "emotional addiction," and being in love with someone who's unavailable.
First single "Just Impolite" is a breezy, moody gem about being obsessed with another. Ingala sings in such a sweet, emotional voice – like so many of his obvious idols in the British New Wave – you could easily become obsessed with him, too.